Hillsborough bike run ended in tragic accident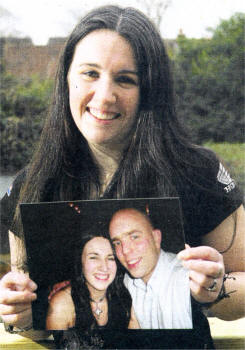 THE widow of a Belfast adventurer killed in a motorcycle accident outside Hillsborough in 2007 spoke this week of their tragic final moments together.
Ben Clark, who had climbed mountains around the world, went out for a Sunday run on his motorbike, promising to be back for dinner.
But the 29-year-old never returned, dying instantly from brain injuries in the collision on the Comber Road.
Devastated
Devastated Caroline Clark said her husband's last words to her were a promise he'd be back in time for a special family meal. Opening her heart this week following the inquest into the 2007 death, she recalled: "He said he was going to go for a run on his bike for an hour and would be back for dinner.
"Ben was in such good form and had no worries."
Dressed in black, Mrs Clark recounted after the hearing: "He was always very careful." The couple fell in love while working together, spending their honeymoon in Egypt, but Mrs Clark was plunged into grief just three months from their first anniversary.
The inquest heard Mr Clark was hurled from his beloved Honda super-bike into the path of an oncoming taxi on the Comber Road, Hillsborough.
Coroner Joanne Donnelly ruled the machine seized up as Mr Clark braked on the crest of a curving hill, sending him into an uncontrollable slide but she said speed was not a factor in the fatality as he was travelling at around 50mph on the 60mph road on a dry summer's day.
His best friend Craig Posnett was riding behind him when he saw him catapult into the air.
"Ben slid away from the bike 15-20ft in front of me," he said. "I remember thinking, 'Please God let nothing be coming round the corner'."
But Mr Clark slammed into a taxi van travelling at 30mph in the opposite direction. Crash investigator Damian Coll said the road was clear, but admitted they might never know what caused Mr Clark's slide. Mrs Clark is now determined her husband will live on in a charity foundation set up in his name.
Mr Clark was a Scout leader and child poverty campaigner who helped street children in Kenya as a UNICEF volunteer in 1996.
He had been planning another trip back to Africa when he was killed.
Mrs Clark said: "He'll be best remembered for helping the children of Kenya, who were so close to his heart.
Supports
"He was the type of man that did anything for his friends and helped out when he could with those less fortunate than ourselves."
She has joined with friends and family to form the Ben Clark Foundation to raise cash for the Moving Mountains charity in Africa and a different local charity each year.
In Kenya Moving Mountains supports clinics, schools, orphanages and housing for those in Nairobi's slums.
Mr Clark was also a well-known mountaineer, who had climbed mountains in countries such as Indonesia and Russia, and had scaled Everest to base camp.
* For further information on the Ben Clark Foundation contact 028 9092 9780 or visit www.thebenclarkfoundation.org.uk
Ulster Star
2/20/02009