Finaghy voted one of the Best Post Offices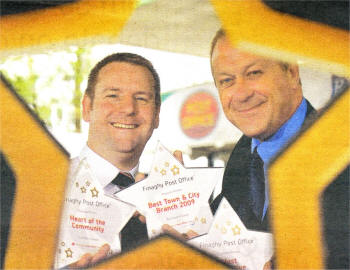 FINAGHY Post Office branch is officially one of the best in Northern Ireland after clinching the title in the regional heats of the 2009 People's Post Office Awards The branch will now go forward to the national final of the People's Post Office Awards, being held on May 21, where they will be in the running for the title of the 'UK's Best Post Office branch'.
The Finaghy branch claimed the title as the 'Best Town/City' branch in the People's Post Office Awards voted for by customers. This was a triple victory as they also won in the categories of 'Heart of the community' award and 'Most Innovation Post Office' award.
Mark Gibson, Head of Area for Post Office Ltd in Northern Ireland said, 'Being crowned the 'Best Post Office' in Northern Ireland is a worthy accolade for Finaghy branch, particularly as it reflects recognition of the team's hard word and dedication by the customers they serve every day. We congratulate the team on their success and wish them the best of luck in the national finals in May."
Jane Platt, National Savings & Investments Chief Executive added: "To be awarded this title is an exceptional achievement which everyone who works at Finaghy branch should be particularly proud of.
"We wish them the very best of luck at the national finals."
Ulster Star
15/05/2009