Big night out at Drumbo Park to raise funds for cancer charity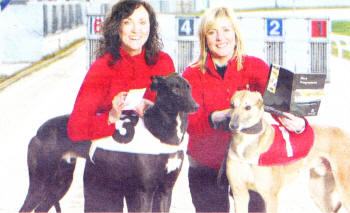 LOCAL leading cancer charity Action Cancer has developed a sure bet for a great night out at Northern Ireland's new greyhound stadium at Drumbo Park.
This fun-filled, affordable night out will take place on Thursday, February 19 2009 in the plush new complex at Drumbo Park that opened just six months ago.
Action Cancer hopes that this first Drumbo Park event will raise £10,000 towards Action Man services at Action Cancer House and on the Big Bus.
This exclusive event launches a 5 year partnership between Action Cancer and Drumbo Park with the aim of raising £500k for the charities Action Man' campaign. The campaign will raise awareness amongst men about prostate and testicular cancers and encourage men to take their health seriously. Event Organisers Kerry McCrea and Lucy Latewood of Action Cancer said: We are so excited about this new fundraising event at Drumbo Park - it has all the essential criteria for a great nights craic. In times like these it is important that we give our supporters a great night out whilst maintaining the key objective. We feel we have encompassed all of this with the launch of this night at the races."
Tickets are on sale at £65 -this includes entry to the races, a drinks reception, four course meal with wine, and a free £5 bet.
Individual tickets, sponsorship opportunities and tables of 4,6 and 8 are available.
The restaurant has capacity to seat 300 people where you have a great view of the racetrack in addition to 100 plasma screens.
It is the perfect event for corporate entertainment, social gatherings and parties, or sporting club outings.
Ulster Star
13/02/2009