Anxious wait for Bombardier Dunmurry subcontractors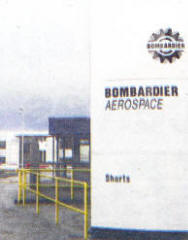 SUBCONTRACTORS at Dunmurry's Bombardier plant will have to wait for another few weeks to find out if they will be affected by the company's decision to cut 300 temporary jobs in Northern Ireland.
The Montreal-based aerospace manufacturer announced the job losses last week. But it is uncertain yet whether any will be in Dunmurry.
A spokesperson for the company said: "The Subcontractors affected will depend on the mix of programmes affected and that will be decided in the next few weeks, so until then we do not know whether it will include subcontractors at Dunmurry."
The job cuts will take place at Bombardier's facilities in Montreal, Wichita and Belfast over a five-month period.
Bombardier said its long-term human resources strategy is to establish stability in its permanent workforce by hiring temporary workers through third party contractors to "provide increased flexibility in periods of fluctuation".
Guy Hachey, president and chief operating officer of Bombardier Aerospace said: "The industry is experiencing strong turbulence and we anticipate more volatility in the short term. The fundamentals of Bombardier Aerospace are solid, but we expect we will face more challenges this year.
"While the corporation has taken significant steps to strengthen its operational and financial position over the last years, we must continue to be prudent and take decisive action," he added.
The cuts are part of global reductions by the Canadian company which will see the loss of 1,010 temporary workers and 350 permanent employees worldwide.
The company employs 5,300- permanent staff at its plants in Dunmurry, Belfast, Newtownards and Newtownabbey who will remain unaffected.
Ulster Star
13/02/2009