New £5.1m school is officially opened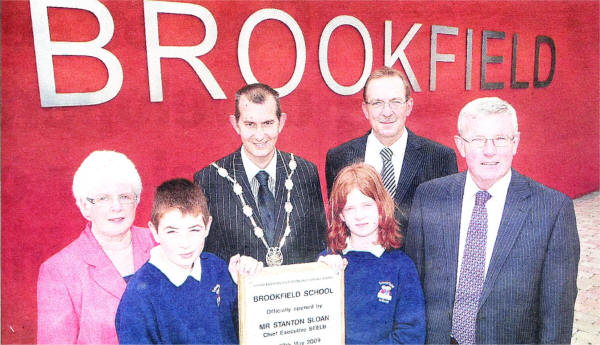 Maureen Rollins Chairman of Brookfield Primary School Board of Governers, Lisburn Deputy Mayor Edwin Poots, Principal Brendan Gillen and Santon Sloan Chief Executive SEELB pictured with Brookfield pupils Justin Locen and Kerry McClure at the opening of the new premises on Friday. US2309-102A0
THE new £5.1m Brookfield Primary School in Moira has been officially opened.
The Chief Executive of the SEELB Stanton Sloan carried out the ceremony at the building which opened in January to the 120 pupils.
The new school can cater for up to 150 pupils with moderate learning difficulties and has many special up to date technologies with features such as a curved shaped building, a bio mass boiler, solar panels and rainwater harvesting. It also features a two room nursery unit which will open in September.
In addition there is an all weather sports field, three outdoor adventure playgrounds, library and computer suite.
Work began on the new school in June 2007, and the children were moved from Broomhedge and Newport near Hillsborough to allow the new school to be built.
Guests at the official opening included local MP Jeffrey Dondaldon, Deputy Mayor Alderman Edwin
Poots, representatives from South Eastern Education and Library Board, Department of Education, Brookfield's Board of governors, contractors, principals of local schools and special schools, parents, pupils and staff.
Brookfield caters for children with moderate learning difficulties including development delay, autistic spectrum disorder and attention deficit hyperactivity disorder.
It offers intensive specialist teaching in highly structured small group settings and provides broad, balanced and relevant programmes of study whilst maintaining central focus on the development of literacy, numeracy, ICT and personal and social skills.
In a recent inspectors' report the school was described as having a 'thorough understanding of individual needs' that offers 'excellent support' for children with ASD, resulting in 'significant improvements in the communication, socialisation and play' of the children.
Everyone at school thrilled with new building
THE VICE principal of Brookfield, Barbara Spence, said they were thrilled with their new building.
"During the whole process of the build the children's special needs were taken into account providing us with a building fit for purpose and creating a calm. environment for our pupils to learn and thrive," she said.
"The inside space is light and airy, allowing for areas capable of being used for a variety of purposes. Outside we have been afforded a great deal of room providing opportunity for the pupils to gain experiences in a wide range of play, sensory and sporting facilities including an all weather multi use games area.
"We would like to thank the South Eastern Education and Library Board for their support over the years and especially at this time.
"We would also like to acknowledge the work of McCombe Brothers who built the school to such a high standard and Tim Neeson the architect."
Ulster Star
05/06/2009