Lisburn actress makes her debut with Bruiser Theatre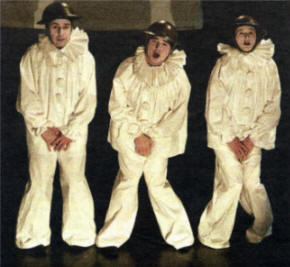 LISBURN actress Niamh McGowan will be making her professional debut with Bruiser Theatre Company when they bring their production of 'Oh What a Lovely War to the Island Arts Centre on April 24 at 8pm.
It's 1914 and Europe is on the brink of war. Your king and country need you, so be a real man, enlist today! But the propaganda promise of valour and victory is quickly revealed to be a fatal myth, as the donkeys in command send the lions on the front line to die with mind-blowing arrogance and incompetence. Throughout it all, they keep on singing!
'Oh What A Lovely War' is a moving, funny, lyrical evocation of the tragedy and pathos of the First World War. Armed with sketches, songs and stories, a cast of Pierrot clowns mix their sombre buffoonery with the bawdy, tough humour of the lads on the front line.
Along the way the story is marked by a fantastic collection of songs from the Great War - 'Pack Up Your Troubles, 'Keep The Home Fires Burning' and 'It's A Long Way To Tipperary'. 'Oh What A Lovely War' is a groundbreaking and stunning examination of a conflict that wiped out a whole generation of young men throughout Europe.
Bruiser's Artistic Director Lisa May explained: "We've wanted to produce Joan Littlewood's wonderful play for years now, so I'm delighted to finally be bringing this amazing show to audiences around the country. A cracking script, a brilliant cast and some of the best music you're likely to see in a theatre this year."
Still as relevant today as when it was first seen in London in 1963, this brilliant, satirical musical is one of the great landmarks of post-war British theatre.
This show epitomises the best and most vital theatre produced by Bruiser Theatre Company over the last decade.
Bruiser's production of 'Oh What a Lovely War' will be staged at the Island Arts Centre on Friday April 24. For further information or to book tickets, priced £10/8, contact the Island Arts Centre Box Office on 9250 9254.
Ulster Star
10/04/2009