How building houses in eastern Europe could change your life
Hillsborough man aims to get 250 to join Big Build
by MARY MAGEE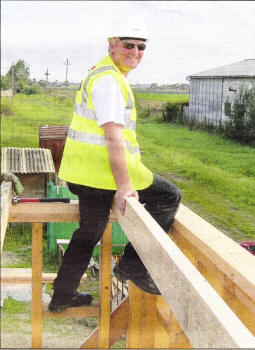 AT FIRST sight an invitation to spend a week building 10 houses in Romania might sound like an offer you could easily refuse. But a Hillsborough man promises that anyone who signs up will find it a life changing experience that you will want to repeat.
Arvon Williams from Hillsborough is taking part in Big Build 09 and hopes to get 250 people on board with him to build the homes as part of the Habitat for Humanity project.
Arvon is so enthusiastic that he had already signed up his family including his wife and three children Anna, Luke and Laura. And he is so confident he will get the remaining 246 needed to join him, that the flights have already been booked for October 3
He described the work in Romania as 'humbling'.
"If anyone is unsure about going, take it from me that you get so much more out of it than you give," he said. "There will be a job for everyone. If you cannot hammer a nail there will be a job for you. My children took part in two projects before and the older ones helped to build while the younger ones helped out in other ways.
"What you are doing is helping someone get a better way of life. This is a great opportunity to be part of an unforgettable week which will change the lives of 10 families forever. It is a privilege to work there and when you go once you will always want to return." Arvon said the need for simple, decent homes is huge.
Over the last 10 years more than 200 teams have participated in the programme raising £1.7 million in donations which has helped transform the lives of families in need in 32 countries worldwide.
35% of the total housing stock in Romania is in a state of complete neglect and needing urgent repairs. In addition to the economic toll, Romania faces the challenge of thousands of children orphaned under the previous communist regime. The Big Build will include homes for five orphans who are no longer eligible to remain in the local orphanage and will provide a fresh start and new hope for the future.
* If you would like to get involved visit www.habitatni.co.uk
Ulster Star
17/04/2009