New £700,000 business centre open in Colin area
12 jobs in pipeline and more may follow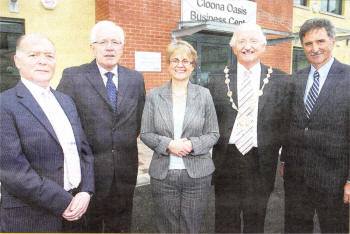 A BUSINESS centre aimed at increasing employment in the Colin area has been officially opened by Social Development Minister, Margaret Ritchie.
On Wednesday Cloona Oasis Centre, a non-profitable community organisation, revealed seven high specification modern office units worth £700,000 in the tranquil grounds of Cloona House. These units are easily accessible from the MI motorway, and are in close proximity to both Lisburn and Belfast. Collectively the office units are to be known as Cloona Oasis Business Centre. Speaking at the event the Minister paid tribute to all those involved saying: "This purpose built facility is a testimony to the vision and determination of all the people who made this happen, particularly those from the Cloona Group."
"The new centre will provide jobs and business opportunities for the people of Colin. There are already 12 jobs in the pipeline and more may follow."
Funded by Belfast Regeneration Office, the International Fund for Ireland, Lisburn City Council, Lisburn Partnership Board, the Catholic Church and Peace II, Cloona Oasis Centre has established the business centre with the primary aim of enhancing the community infra-structure of the Colin area by reducing social exclusion and increasing social capital, and provides a range of recreational and support mechanisms to the local community and further afield.
The units will be let out to local businesses, with the rental income used to fund the range of support services and activity groups in Cloona Oasis Centre, giving a form of secured financing. The units will also increase employability in the Colin area, and provide a range of services to the community. Confirmed tenants include support service 'Spread' and 'Good Morning Day Care, a new crèche facility in the area.
The units have been finished to a very high standard throughout. Features include intruder alarms, 37 communal car parking spaces, electric shutters on windows, elevator, disabled facilities, communal toilets and kitchen, suspended ceiling and individually fitted gas and electric metres. There is also a coffee shop on site with catering facilities available, in addition to training and conferencing facilities available in Cloona House.
Ulster Star
08/05/2009