Buzzy'time for local beekeepers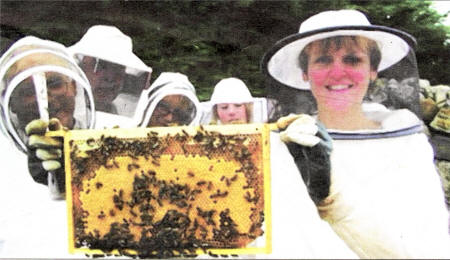 Vanessa Drew from Ballyroney, secretary of Dromore BKA, holds up a good frame of sealed brood at the demonstration.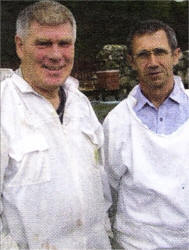 BEEKEEPERS all over Ireland are currently removing honey supers from their hives and extracting the honey, not that there is too much honey around, as July, and indeed most of the season, has been cold and wet.
The few brilliant days in June did not coincide with the blossoming of nectar bearing plants. Honey will be scarce this year but the work goes on; bees require to be treated for Varroa after the supers are removed and bees will require food on which to winter.
Joe Thompson who is a member of both the Dromore & Killinchy Beekeepers' Associations, recently invited both associations to a demonstration in his apiary in the Mournes where he usually has a good crop of Bell Heather Honey. Unfortunately the honey flow had not started on Sunday and, if the weather doesn't improve, there may be no flow at all this year.
One of the big events in the Beekeeping year is the Honey show organised by Dromore BKA in The Village Centre in Hillsborough, coinciding with the Hillsborough Horticultural Societies' Autumn Flower Show. The show will take place on Saturday afternoon, September 5. In preparation for this, the August meeting of Dromore BKA, on August 18, will be largely devoted to helping members prepare their honey and wax for the show. Norman Walsh will speak on 'Exhibiting Hive Products and Winning Prizes' and Billy Douglas will demonstrate the preparation of beeswax for the show bench.
The AGM of Dromore BKA will be held on Tuesday, September 15, as usual, in Dromore High School at 7.30 pm. Ethel Irvine, from Enniskillen, will conduct the election of office bearers and address the meeting on 'Varroa Management', a very topical subject.
Ulster Star
14/08/2009