Fusion puts the finishing touches to `Calamity Jane'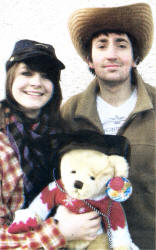 WHILST everyone else was finishing off the turkey, hardworking Fusion Theatre cast members were already back rehearsing for their latest show 'Calamity Jane'.
A couple of days after Christmas saw the dedicated cast practising their dance moves and singing to guarantee the perfect performance that audiences now expect.
The cast got an extra boost from their latest fan, Mohammad Al Fayed who sent them a Harrods Teddy Bear as a mascot for their forthcoming show. Every year Harrods issue a new teddy bear and this year it has been given the name of 'Oscar'.
Niamh McGowan who plays Calamity Jane said: "We were very excited when the bear arrived especially as Fusion Theatre can now claim to have their first Oscar."
Oscar will be sitting in the wings watching all four performances which take place from January 28-31 in Lisburn's Island Arts Centre. After the success of 'Les Miserables', Fusion's award winning Director/Musical Director, Ian Milford was keen to show the young cast's versatility by performing a show which is far removed from the dark brooding story of Les Miserables.
He said: "Calamity Jane promises to be a lively, colourful, and most importantly, 'fun' show with music which appeals to young and old, such as 'Deadwood Stage, 'Secret Love, 'The Windy City' and 'Keep it under your hat'.
"It also gives the cast the chance to show off their ever-improving dance skills with some innovative dance routines under the watchful eye of choreographer, Rebecca Leonard," he added.
Niamh McGowan who plays Calamity Jane, the role made famous by Doris Day, will be joined by Raymond Walsh (Wild Bill Hickock), John Joe McGuigan (Francis Fryer), Lori Moore (Katie Brown) and Heather Viant (Adelaide Adams).
Tickets are selling fast, but can still be obtained from the Island Arts Centre Box Office on 9250 9254 or online at www.tickets.lisburncity.gov.uk
Ulster Star
09/01/2009