A HERO TO THE END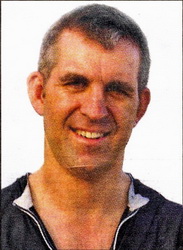 MOVING tributes have been paid to Dromara soldier Captain Mark Hale who was killed in action last week in Afghanistan as he carried a wounded comrade towards safety.
Captain Hale, 42, and 19-year-old Rifleman Daniel Wild, both of the Ballykinler-based Second Battalion, The Rifles, were killed by a bomb blast in Sangin in Helmand province as they tried to help a third soldier, Lance Bombardier Matthew Hatton from 40th Royal Artillery (Lowland Gunners), based at Thiepval Barracks in Lisburn, who was injured in an earlier explosion, to a waiting helicopter.
Captain Hale died of his injuries in hospital at Camp Bastion while the other two soldiers died at the scene.
Originally from Bournemouth, Captain Hale settled in Dromara in recent years with his wife Brenda, who is from Bangor, and their two daughters Alex and Tori, who travelled to England on Tuesday as his body was repatriated to the UK.
On a website set up to pay tribute to Captain Hale, comrades shared their memories of the man who has been called "a hero to the end."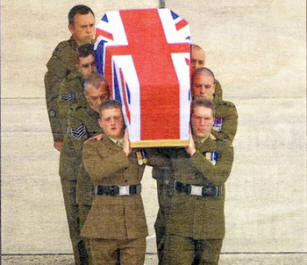 The repatriation on ceremony for Captain Mark Hale, 42, from the 2nd Battalion, The Rifles was held at RAF Lyneham on Tuesday.
A soldier who served with Captain Hale in Northern Ireland said he was "the epitome of a professional soldier." He also recalled sharing a joke with him the last time they met. "Without doubt one of the most professional men I have met in my 20 years," he added. Many comrades remember Captain Hale's sense of humour. "I knew him as both a friend, a colleague and a true professional," said one soldier, while another wrote: "He was the sort of man who could always put a smile on your face."
Captain Hale was also remembered as a dedicated family man, as one soldier commented: "His calm appearance contrasted with a fierce determination to support all he knew; whether it be his family, fellow Riflemen or even team mates on a rugby pitch. As a father, he was deeply proud of his daughters, as a soldier he was deeply paternal towards his men. He wouldn't ask anyone to do a task he wasn't willing to do himself, a fact widely acknowledged by all who knew him."
A final emotional tribute read: "A giant of a man he had the personality, charisma and professionalism that every soldier should aspire to".
Commanding officer pays tribute to `truly great man'
THE commanding officer of 2 Rifles Battle Group Lt Colonel Rob Thomson said it was 'almost impossible to know where to start when writing a tribute to a man as brave, huge and full-on as Mark Hale'.
"He oozed quality, humanity and had a tremendous and mischievous sense of fun, which frequently lightened the load of this extraordinary tour" Lt Col Thomson said.
"Nothing phased him, however demanding the situation, and his ability to absorb work, pressure and other people's worries was genuinely legendary.
I knew when a task had his name ascribed to it that that task was as good as done already. I kept giving him more work and he kept on delivering. He has been superb counsel to me and, much more importantly, to countless Riflemen who have hunted him out for a chat.
"On the ground, he breathed courage into the platoons he served alongside. Mark was an outstanding Rifleman - fiercely intelligent, always creating novel options, often well outside his logistic lane, and committed like no other.
"It is entirely typical of this man that he died whilst helping to evacuate wounded soldiers. Mark understood the importance and the urgency of the work in this place in spades - one could see that from the amount he crammed into each day.
"But he was more than just an extraordinary professional, he was a truly great man, a devoted husband and an adored father. He had a strong Christian faith, even standing in as the Padre for one of our church services here in Sangin.
"Mark wasn't a fifth gear man, he was a sixth gear merchant. Us mortals could rarely keep up. "The hole he has left in our lives is enormous but we know that our grief is nothing compared to what his dear, beloved family is going through.
"Mark Hale, a man of true Christian faith, died doing a job he loved and was embarked on a mission that has national levels of importance and urgency.
"Mark, I promise you that your baton here has not been dropped - it is held high."
Ulster Star
21/08/2009