Castle Street work can begin as project gets the go-ahead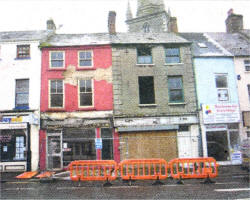 WORK is expected to soon begin on two properties in Lisburn's Castle Street after planning approval was granted for the project.
The two buildings at 12 and 14 Castle Street have been the subject of much debate, with the City Council having previously tried to have the buildings restored, rather than being demolished.
Now, however, applicant Brendan Eastwood has received the approval form from the Planning Service that will allow him to commence work.
Mr Eastwood's son Brent said: "We had received approval but we only got the green form about a week ago. It is one thing to receive verification from the Planning Service but without the green form you can't do anything.
"Also, as a condition of the planning permission we had to have an Archaeologist's Report carried out, which we have just received, so work can start quite soon." Local shopkeepers have been expressing their concerns over the buildings' safety.
They also say that because of the potential danger a section of the footpath has been closed for two years, forcing the public to use a temporary walkway along the' road.
One man said the condition of the buildings was a major concern to those in the area.
"People who are trying to walk' up to the Cathedral with prams' have complained because there, is no proper walkway. The foot-' path has been closed off for about two years."
He continued: "This is supposed to be our Historic Quarter; something has to be done."
A DRD spokesperson said: "Roads Service is aware that the footway at this location is closed for pedestrian safety reasons and that provision has been made to accommodate pedestrians passing the area."
Ulster Star
13/02/2009