Mother's heartfelt appeal for young people to seek help
`YOU'RE NOT ALONE - HELP IS ALWAYS HERE'
by JENNY MONROE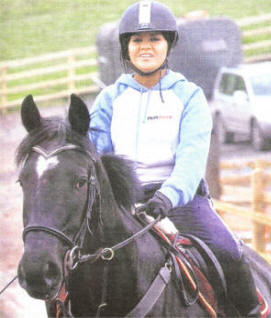 Accomplished showjumper Catriona Irwin
THE mother of a young woman who took her own life at Hillsborough Forest park last Tuesday has made a heartfelt plea to other young people to seek help if they are feeling alone or depressed.
Sandra Irwin's plea comes days after the body of her daughter Catriona, from Hillsborough, was found by police who had begun a search after she went missing. A police spokesperson said her death was not being treated as suspicious.
Speaking to the Star Sandra said that while her daughter, 24, an accomplished showjumper, can't be brought back she wants to help prevent other families from going though the pain her family is enduring.
"I don't want one more family to go through this devastation," she said.
"I am making a heartfelt appeal for any young person with problems to talk to somebody, as life can never be
that bad." Sandra explained that when things have calmed down she intends to do something to help young people who have problems.
She said: "Unless you have gone through it you can't exactly understand the pain.
"I can't bring my Catriona back but maybe I could help stop one more person from doing this."
In a moving tribute Sandra said she was proud to be Catriona's mother. "Catriona had problems in the past but she overcame her difficulties and I was extremely proud and privileged to have her as my daughter" she said.
"I was proud to be her mother. I will love her deeply for the rest of my days. She was a beautiful, fun girl, loving to both humans and animals and she absolutely adored her niece Chloe who she doted on and absolutely loved. She will never be forgotten. "
Samaritans provides confidential non-judgemental emotional support, 24 hours a day for people who are experiencing feelings of distress or despair, including those which could lead to suicide. You can talk to someone at Samaritans on 08457 90 90 90.
---
Tribute paid to unique and talented young woman
`A bright and dazzling light has been extinguished but the memories will never burn out'
IN a moving tribute at Catriona Irwin's packed funeral in Lisburn's Seymour Street Methodist Church on Saturday, family friend Dora Beacom described her as a "unique, mischievous and party-loving character" .
At the service conducted by the Rev Brian Anderson, Dora recalled Catriona as being a "true party girl" who loved life and lived it to the full. She also spoke of the young woman's passion for show jumping.
Catriona, who started riding at the age of five, was a member of Iveagh and Killultagh Pony Clubs as well as Mossvale and Downshire Riding Clubs. She represented Northern Ireland at National Championships in England and "always gave of her best when in the saddle".
Dora said she was totally passionate about her showjumping and only last month competed at The National Balmoral Championships on Jenny's Jill. And when she wasn't competing she was spectating — such was her love of the sport.
"Her massive collection of trophies and rosettes is a fitting tribute to her success and no show on the island of Ireland was too far away for her to attend. She particularly liked competing in the Amateur classes and enjoyed the camaraderie and banter that accompanied these events."
Dora said that anyone who knew Catriona also knew her mother, Sandra, who transported her to all the shows and competitions and was a great support to her in the pursuit of her dreams.
The family friend spoke of Catriona's love of animals of all sorts and, in addition to her horses, had cats, dogs, guinea pigs, gerbils and rabbits.
A guard of honour was provided by members of Mill Yard Equestrian Centre when Catriona had her livery and her remain were, very appropriately, transported to the cemetery in a horse-drawn carriage.
"Catriona was a loud, passionate, spirited boisterous and, at times, confrontational character whose determination knew no bounds and those characteristics were what made Catriona the Catriona we all knew and loved," said Dora.
'A very bright and dazzling light has beer extinguished. However, Catriona has left legacy of memories that will never burn out and which, undoubtedly, will continue to be the topic of conversation at many gathering: for a very long time to come," she added. "On behalf of the equestrian fraternity, WE extend sincere condolences to Sandra James, Becky, Chloe, Grandpa and the entire family circle."
Ulster Star
07/08/2009