Gang targets elderly former footballer in his Seymour Hill home
by JENNY MONROE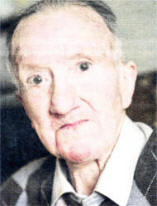 AN 88-year-old former footballer has been robbed at his home in Seymour Hill.
A gang of what is believed to have been up to six people pushed their way into the house when Mr Davey, a widower, opened his front door on Tuesday evening. They searched the house saying they were looking for drugs.
Eileen Roden, the daughter of Cecil Davey who played football for Cliftonville, said the whole family has been shaken.
"They kept shouting: 'Where's the drugs, where's the drugs?' He's shaken and we feel it for him. He's overwhelmed", she said.
"We're younger than him and we feel it."
Eileen said the gang pulled out all the drawers and ransacked the house.
"The strange thing is that they didn't take the money that was in my father's wallet.
"Thankfully they didn't hurt him but he has been left shocked. We are all really angry. I would tell everyone young and old not to open your door until you know who it is," she added.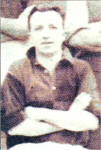 Eileen said that only on Monday she had warned her father to keep his doors locked and he said "no one will come and rob me".
Councillor Jonathan Craig said he was 'shocked and sickened' by the attack.
He said he understood the police were getting substantial help from the local community.
The attack was condemned by the Seymour Hill & Conway Residents Association. Mark Black from the group urged anyone who could help the PSNI to do so.
"We ask the community to remain vigilant and if assistance is required to contact the community office on 02890 600565."
Alderman Edwin Poots said he had visited Mr Davey' -- and was shocked at the way his house had been trashed. He said: "The decent thing for these individuals to do 'would be to hand themselves in to the police."
Councillor Margaret Tolerton also condemned the attack and said it was good to see the community working so closely with the Police.
Lisburn City Mayor Ronnie Crawford also visited the pensioner. I He commented: "This is another case where the thieves were looking for prescription drugs and failed to find any. "Not only has a vulnerable 88 year old man been targeted but neighbours are now living in a climate of fear. These people must be caught and heavily punished."
Ulster Star
06/02/2009