St Patrick's pupils `Hungary' for challenge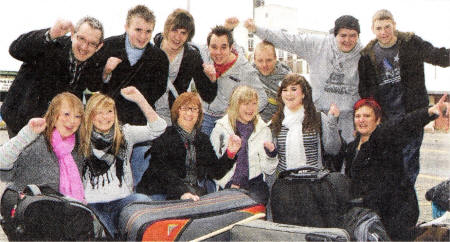 Pupils from six schools throughout Northern Ireland, including St. Patrick's High School, Lisburn, prepare to go to Budapest recently.
STAFF and pupils from St. Patrick's High School in Lisburn travelled to Budapest recently to attend the final conference in a British Council programme called Challenges in Schools.
The local students joined pupils from five other schools across the country at the conference, which featured a unique online dimension to engage the rest of the schools back in Northern Ireland.
Challenges in Schools is a project involving 49 schools form 11 countries across Russia, Northern Europe and the UK, which aims to develop a vision for the 'school of the future' with the active engagement of young people and their teachers.
Schools work in clusters of three to four using the Internet to collaborate using discussion and information sharing to support their face-to-face learning. The pupils from St. Patrick's HS worked with pupils from schools in Ukraine, Slovenia and Hungary.
Two pupils and one teacher represented each of the schools at this final conference as part of a year long programme. Challenges in Schools has been helping schools to find solutions to such problems as violence, bullying including cyber bullying, drug abuse, the increasing usage of virtual communication and diversity of ethnic and socio-economic background. The final conference aimed to bring the learning from the school clusters together and provide a forum for the exchange of ideas.
Project Manager at the British Council, Maire Ni Threasaigh said: "We have been impressed by the ongoing work and commitment to the project in each of the participating schools.'
stacey.heaney@ulsterstar.co.uk
Ulster Star
27/03/2009