Dancing at the Floral Hall and a sea of mud
the b
es
t ti
mes
of my life
American aircraft technician recalls wartime Langford Lodge during BBC documentary
by NEIL GREENLEES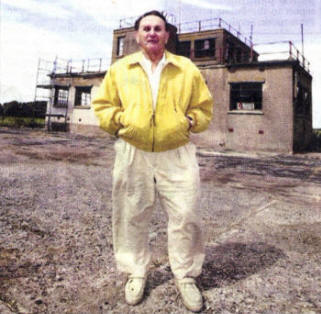 AN American aircraft technician will recall his wartime experiences at Langford Lodge Air Base outside Crumlin during a documentary to be broadcast by BBC One on Monday night (March 2).
'Tailwind' will describe how tens of thousands of pilots and aircrew from every Allied nation came to the province to prepare for frontline conflict.
Among them was Charlie 'Smokey' Stover, an employee of the Lockheed Aircraft Corporation, who arrived on one of the transatlantic shipping convoys.
Researchers tracked him down to his home in the sunshine state of Florida where he told them the convoy on which he sailed was 'probably the biggest' to arrive in the UK at the time.
His first impressions of his new home were not entirely favourable: "They brought us to Langford Lodge where all the mud was," he said.
"There was mud everywhere but we soon sorted that out and had a lot of building to do. It was one of the best times of my life even though it was during the War." Although based just outside Crumlin a great deal of Charlie's social life revolved around Belfast's famous 'Floral Hall' at Bellevue.
One cold winter night he even gave his expensive overcoat to the young woman on duty in the cloakroom area.
"I spent some great nights dancing at the Floral Hall. I have great memories of it," he added.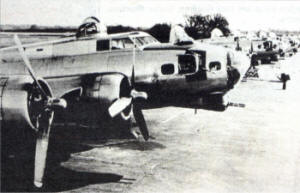 The programme will look at how Langford Lodge was used to prepare B17 'Flying Fortress' bombers.
It will also tell the story of Polish aircrew based in Co. Down as well the 'Donegal Corridor', considered very important to the Allies at the time. Although Ireland's most northern county was in the then 'Free State' which remained neutral during the conflict this flight zone was agreed with the Dublin Government to allow aircraft a 'shortcut' to the Atlantic. The programme will feature women who moved from Northern Ireland to the USA in order to marry Americans they met while they were based in the province.
Tailwind is the brainchild of author John T Davis who has dedicated the film to his late parents, George and Kay. George was one of those the war brought from England to Northern Ireland - where he met and fell in love with local girl Kay. "It's been a real privilege to work with people of my parents' generation who lived through the war. To me so many of them are real heroes, and so many of them risked so much," added Mr. Davis.
Tailwind is a Michael Beattie Media Production for BBC NI.
neil.greenlees@ulsterstar.co.uk
Ulster Star
27/02/02009