Pupils in fine voice at Choir of Year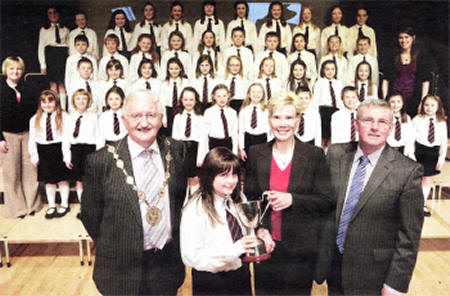 Lisburn City Council Mayor, Councillor Ronnie Crawford, with a pupil from Riverdale Primary School who received the winning trophy on the schools behalf , Dr Janet Gray MBE who presented the trophy and Mr Stanton Sloan, Chief Executive of the South Eastern Education and Library Board.
LOCAL schools were in fine voice at the recent City Primary School Choir of the Year, which was held in the Island Centre.
A record entry of 16 local school choirs competed the three classes. The adjudicators charged with the difficult task of finding winners were Mrs Diane Creighton, Music Advisor SEELB; Mr Frank Morwood, retired school principal and Mr Donal Doherty, Music Advisor, WELB.
The morning session opened with the choirs from Friends' Prep, Anahilt PS and Scoil Na Fuiseoige turning in solid performances. First time entrants Brownlee PS impressed in their debut as did Carr PS. Regular entrants Ballycarrickmaddy PS and Ballymacward PS showed great improvements in their performances with last year's first time entry winners Maghaberry PS improving yet again and taking the Runners-up Prize.
The morning class, however, was won by Riverdale PS who gave an outstanding, polished performance in both of their pieces. Teachers, Mrs Annett and Miss Murray were delighted and pleased that all the hard work had paid off.
The afternoon class, for schools with more than 200 pupils, saw seven local primaries competing for the coveted prize.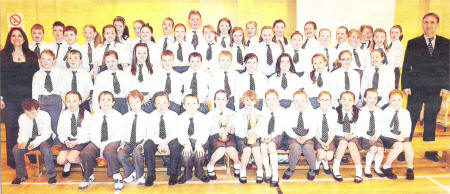 St Kierans Primary School Choir who won the Lisburn City School Choir of the Year and Best Newcomer Award also pictured are guitar player Des O'Reilly and Choir teacher Cathy McKeagney. US1409-108A0 US1409-109A0
Once again regular entrants Moira PS and Downshire PS set a standard and all present knew that the level of competition was extremely high. Killowen PS gave a solid performance and was followed by first time entrants St Kieran's PS. Previous winners Pond Park PS did not disappoint and gave their usual excellent performance.
Oakwood Integrated and St Joseph's PS completed the class. Oakwood, as first timers, were impres- sive. St Joseph's, loyal supporters of the competition did not allow the fact that their senior pupils were unable to attend to discourage them. A junior choir, made up of P3 and P4 pupils turned in a great performance.
St Kieran's PS just pipped Pond Park PS to the winning post in a very close run competition. St Kieran's also scooped the best newcomer award. Organiser, Trevor Carruthers, Principal of Riverdale PS was very pleased with the entry and standard of competition."This has been a fantastic year for the competition," said Mr Carruthers. "We were pleased that the Mayor, Councillor Ronnie Crawford; Dr Janet Gray, World Champion Waterskier and Mr Stanton Sloan, Chief Executive SEELB were able to join us.
"They enjoyed a great day's entertainment. I would thank Lisburn City Council and Lisburn School of Music for their support for the event and we look forward to an even bigger entry next year."
Ulster Star
03/04/2009