Christopher cooks his way through to young chef final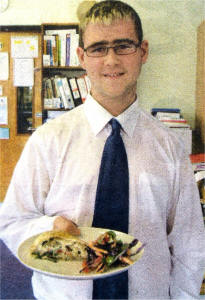 LISBURN student Christopher Clarke is a step closer to becoming 2009's Young Cook of the Year after successfully winning the regional heat in the Dairy Council for Northern Ireland's annual competition.
Christopher Clarke, a pupil at Parkview School, was named as the South Eastern Education and Library Board regional winner in the Special Education category.
He made Roasted Vegetable and Ricotta Filo Roll with orange and yogurt slaw side dish, followed by banoffee pie.
Christopher will now go forward to the grand final, a 'Masterchef' style cook-off, at Cambridge House School in Ballymena at the end of the month.
The popular culinary competition asked students to create nutritious meals which
reflect growing interest in using locally sourced ingredients.
His class teacher Philip Reain said: "We are all really proud of his success. Christopher has put a lot of effort this year into developing his culinary skills at school."
Entrants had to plan a healthy, value - for - money, two course meal for three of their friends which includes some of the wide variety of high quality food produced in Northern Ireland and local dairy products. Dr. Mike Johnston, Chief Executive of the Dairy Council for Northern Ireland, said: "We are impressed every year with the talent and creativity of all the students who enter and Christopher really deserves the opportunity to demonstrate his skills in the final of Young Cook 2009."
Ulster Star
27/03/2009