Christopher hits a winner with Prince's Trust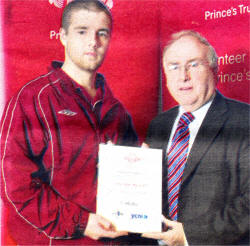 THE proud family of a young man from Lisburn were present at Crusaders Football Club in North Belfast recently to see him graduate from a training programme run by youth charity The Princes Trust.
Christopher Murdock was one of 19 unemployed people from across Northern Ireland to complete the six week 'Get into Sport and Leisure' Scheme.
The goal of the course which is designed for 16 to 25 year olds who have faced barriers in their lives is to prepare participants for a career in the growing Sport and Leisure Sector.
Christopher and his fellow trainees were presented with certificates to celebrate their achievements by Jack Palmer, Head of Sport at the Department of Culture, Arts and Leisure.
However, before the ceremony he enjoyed taking part in a football match during which course participants challenged a team from the Trust which included Pete Snoddon from Cool FM and Paul Muir from Lisburn Distillery.
The course is run in association with the IFA, Belfast City Council, and the Youth Council for Northern Ireland. Participants successfully attained their IFA Level One Award in football coaching, Bronze Medallion, First Aid training and their Sport For All Leader Award.