City centre cycle races in memory of leading cyclist
by JENNY MONROE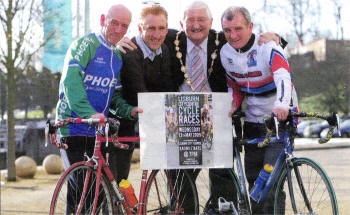 A CYCLE racing event has been organised for the first time in Lisburn, in memory of a leading International Cyclist who was tragically killed.
Lisburn City Council, The Maryland Wheelers and The Phoenix Cycling Club have organised the event which will take place on Wednesday, May 13 and will start and finish in Smithfield Square in honour of David McCall who died from injuries received in a cycling accident in August 2008.
The Mayor of Lisburn, Councillor Ronnie Crawford, speaking at the launch said: "Lisburn City Council is delighted to have cycle races happening in the City Centre, in honour of David McCall, who was a local man.
"I encourage all junior/novice and competitive cyclists to come and participate in one of the races taking place. Participants can enter the races from 6pm onwards at Smithfield Square.
"Specific roads around the City Centre will be closed for the races to ensure the safety of the participants and spectators. The Council and the two organising Cycle Clubs hope that the event will be an annual attraction to the City, encouraging cycling safety and exercise amongst participants and spectators alike," he concluded.
Sean Kelly, former World Number One cyclist, said: "David was a personal friend and I am privileged to be able to support this event designed in his memory. David loved nothing more than to cycle on the open road and he would be flattered by the Lisburn City Centre Cycle Races being held in his honour."
Cyclists of all abilities are encouraged to come along and participate. Safely attired recreational cyclists will be first to enjoy the cycling circuit.
"Next up will be an inter-club race between the two organising clubs; followed by two open races, which will involve a number of Ireland's top cyclists, for the elite cyclists out there.
Ulster Star
08/05/2009