Clampers refund money to disabled boy's dad
DISABLED PARKING SIGNS AT LIBRARY ARE CAUSING CONFUSION SAYS ROGER
by STACEY HEANEY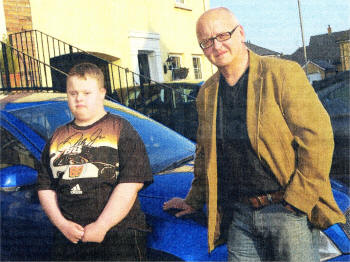 A CAR clamping company has relented after they were contacted by the Ulster Star when a Lisburn man and his disabled son had their car clamped during a recent visit to Lisburn City Library.
Roger Gillespie and his son Christopher, 13, who has Down's Syndrome and who has no muscle tone, which prevents him from walking very far, paid a visit to the Library on Saturday April 18, before they intended to have a family day out together.
However, when they returned to the Library car park, where Christopher's Blue Badge was on display in the window, they found their car had been clamped and they had received a £75 fine.
Since being contacted by the Star, however, ISTM, the company which controls the parking at the Library, has said that Roger will now be receiving a full refund. They added that whilst the clamping decision was technically correct, Roger's car should not have been clamped given the situation.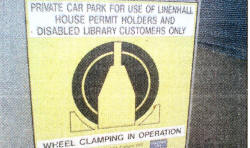 James Moffat, the owner of ISTM, said, "Just because they broke the rules doesn't mean you have to do it (clamp the car). It should not have happened."
He added that the Manager was not on duty that day to give the go-ahead for the clamp not to be put onto the car.
Speaking about the events, Roger said that the signage in the car park was still confusing for motorists and he said he fears fellow motorists could also fall into the same trap.
Roger commented: "We were aware from signs in the car park that wheel clamping for unauthorised vehicles was in force, but given the sign at the entrance stated that the car park was for the use of Linenhall House permit holders and disabled library customers only' we were sure it was in order to park there.
"We've learnt from the situation now but potentially other people could fall into this trap.'
Roger added, "There are two bays marked out for disabled use, but if we had known we would be clamped for parking in one of the other spaces we could have parked legally on the street outside. We were heading out to the Omniplex, which we missed and trying to explain that to a 13 year old was difficult. "Both of the disabled spaces were full and we genuinely looked at the sign. I am the first one to say when something is my own fault but this is not right. I am worried that this will happen to other motorists because the signage is very misleading."
stacey.heaney@ulsterstar.co.uk
Ulster Star
01/05/2009