Primary school pupils tackle the problems of climate change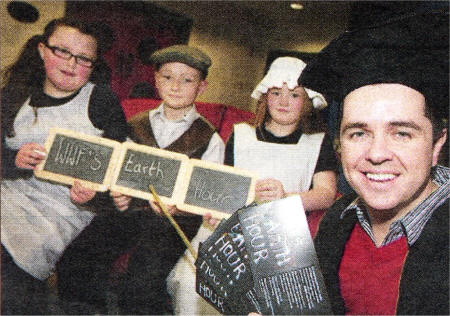 Christ the Redeemer pupils Lauren Shannon, Colm McCluskey and Megan Cummins pictured with Radio DJ Pete Snodden promoting WWF's Earth Hour. US1309-144A0 Picture By: Aidan O'Reilly
CHRIST the Redeemer Primary School in Lagmore did their bit to tackle climate change by taking part in the WWF's Earth Hour this week.
"Christ the Redeemer are delighted to be supporting WWF's Earth Hour," explained Principal Sinead Beare. "Our pupil's Eco Council have really taken on all the ideas of Earth Hour, and are doing their best to help tackle climate change.
"I hope all our pupils sign up to Earth Hour at home and switch off on Saturday night." The school's Eco Council started the day with a special Earth Hour assembly for all pupils, followed by candlelit storytelling at primary 1 and 2 and painting in the dark using fluorescent paints for primary 4. Meanwhile primary 6 pupils hosted a 'Dragon's Den' with ideas to tackle climate change. Primary 7 had a Victorian school day with lessons by candlelight and full costumes.
Local breakfast presenter on 97 4 Cool FM, Pete Snodden decided to drop in and see what the local kids were doing as part of the school's Earth Hour events.
"I think it is really great to see kids at this young age genuinely getting involved and trying to tackle major issues that will affect their future like climate change," he said.
"Some of the initiatives that they are coming up with are fantastic and I'm sure I've spotted a few 'Duncan Bannatynes' among the Dragon's Den group."
Visit the WWF website to find the Earth Hour School Kit including 60 minute activities, climate change games and lots of other resources. Sign up to WWF's Earth Hour at www.wwf.org.uk/niearthhour or text 84880.
julieann.spence@ulsterstar.co.uk
Lisburn City Council to join WWF's earth hour
LISBURN City Council will be joining the WWF's earth hour initiative that seeks to get one billion people in 1000 cities around the world to switch off their lights for one hour on Saturday March 28.
Councillor Matthew McDermott proposed the motion to the Council at it's monthly meeting on Tuesday night. Commenting Mr McDermott said: "Earth Hour is not just about the symbolic gesture of switching off lights for an hour, it is about sending out a wider message that people want global leaders to take urgent action to tackle climate change.
"It has been recognised and demonstrated that many jobs can be created by investing in a new green economy. There is an opportunity for us here, particularly in Northern Ireland, to capitalise on this and begin tackling the economic downturn we are faced with, and this step is a sign that we are willing to do this.'
The Council agreed with Mr McDermott's proposal on the condition that it is carried out in a safe and practical manner.
"I'm delighted that Lisburn has decided to join the 2712 cities and towns already signed up across 83 countries to send out this clear message to world leaders," commented Mr McDermott.
Ulster Star
27/03/2009