Trek to take Colin up equivalent of four Everests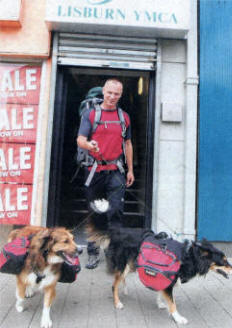 It's summer and as most of us look forward to a relaxing break a Hillsborough man is preparing to climb the equivalent of four Everests and experience a 40 degree swing in temperature on a gruelling BOO km trek.
Colin Hughes, a YMCA volunteer, is getting set for a gruelling Pyrenees Adventure in a bid to raise both funds and awareness of the work of the YMCA.
He will embark on July 12 on a 42 day endurance trip covering 800km from Hendaye on the Atlantic side of the south of France to Banyuls-sur-mer on the Mediterranean side of the mountain range.
Colin has volunteered for many years with the YMCA's Adventure Learning Programme which involves projects around citizenship, identity, youth empowerment and freedom of expression and many other issues common to youth in these areas.
He described the task ahead of him: "My journey will take me in and out of Spain as I traverse the length of the Pyrenees along what is known as the HRP (high route Pyrenees) or the Haute Randonee Pyrenee.
"Each day I will cover approximately 20km carrying 22 kilograms, the idea is to be self sufficient in that I will carry 11 days food supply and all equipment needed to make my journey as comfortable as possible. The dogs will also be carrying back packs with 11 days food supply and we will share a one man tent.
"Hygiene may be a problem -not so much for me as for those I may meet on route. Every 11 days I will resupply from my vehicle with a fresh 11 day supply, my sister has agreed to move my vehicle and meet me as needed as local resupply with dehydrated food and fuel is not feasible.
"During the time I will ascend more than 40km - more than four times the height of Mount Everest - and experience possibly -10 degrees at night and well into the 30c degrees during the day. Possibly a mid life crisis but I like a challenge."
Ulster Star
03/07/2009