Colonel Charley retires from St John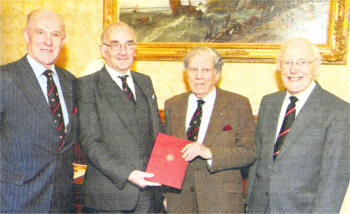 A SPECIAL lunch was held recently to mark the retirement of Colonel Robin Charley as Librarian of the Commandery of Ards of the Order of St John.
The Ulster Reform Club was the setting for the lunch on January 20 and the event was attended by many of Colonel Charley's former colleagues and their wives.
Colonel Charley, a member of a well known Lisburn family, was a Knight of the Order of St. John and held the post of Librarian in a voluntary capacity for 18 years. Prior to that, he had volunteered for one of the foundations of the Order, that of St. John Ambulance in Northern Ireland.
As strategic head of the training side of St. John Ambulance, Colonel Charley oversaw the emergence of the charity as the foremost provider of First Aid training courses for the workplace. Through this strategy vital funds were raised to support the charitable work of St. John.
The head of the Order of St. John in Northern Ireland, His Honour John McKee, said: "Robin Charley retires after a colossal innings as Librarian for the Commandery of Ards. He has given outstanding service over 35 years. His enthusiasm and foresight have greatly contributed to the St. John Ambulance of today, a charity which provides an effective and efficient volunteer charitable First Aid service to local communities."
In reply, Colonel Charley thanked the guests for their hospitality and the gift of a book. His wife, Janet, daughter and son in law, Catherine and Peter Champion, were present.
Ulster Star
13/02/2009