Students welcome visitors to discuss community solutions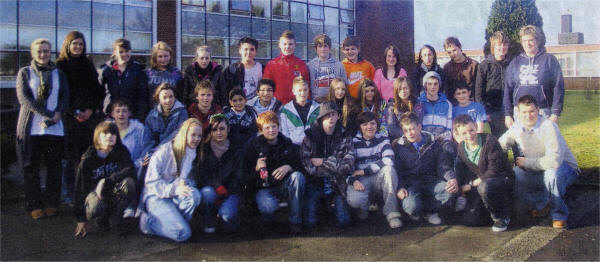 Lisnagarvey students welcomed Dundalk Grammar School
as part of a Year 10 Civic Link Programme.
LISNAGARVEY HS students welcomed pupils from Dundalk Grammar last week as part of a Year 10 Civic Link Programme. The programme is a co-operative venture between schools in Northern Ireland and the Republic and during this year the two groups have been looking at problems within their local community. It has allowed students to present, share and learn through the medium of face-to-face residential exchanges and develop problem solving strategies together.
During the two day visit, students were engaged in a number of workshops expressing their views on problems which they had identified before the visit.
Students took part in a number of interactive exhibits at W5 and later visited the Belfast Wheel which offered spectacular views across the city from a height of 200 feet.
Day two was more relaxed with students taking a seat in the Council chamber for a question and answer session with the Mayor, Councillor Ronnie Crawford.
Students involved in the project will travel to Dundalk in April to present their research findings and will later take part in a show case event which will allow them to present their problem and possible solutions to invited guests including representatives from their third partner school which is in Boise, Idaho, USA.
Ulster Star
20/03/2009