Transplant team to score with charity football match
by MARY MAGEE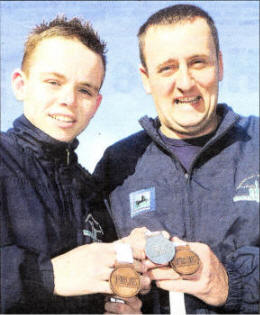 A CRUMLIN boy, who is one of the eight athletes selected to travel to the World Transplant Games, is to benefit from a charity football match.
The management of the Chimney Corner Hawks FC are organising a fundraising match, entitled Crusaders vs Glentoran Legends World Transplant Games Football Fundraiser on Friday May 15 at Brantwood in Belfast. 16 year-old Conor, who plays for Chimney Corner, received a life-enhancing kidney transplant from his father John in 2005 .
The management at Conor's football club - Eddie Finn, John McKeever and Victor Beattie -have organised the charity football fundraiser to help with his trip to the World Games.
As an added attraction at halftime, Conor and his team mates will have a penalty shoot-out with one of Conor's Northern Ireland team mates, Tony Miskelly.
Tony has first hand experience of the life-enhancing benefits of transplantation, having received a bone marrow transplant from his sister Christina in 1990, after collapsing on the day he was due to sign for Glentoran E.C.
Event organiser Eddie Finn said: "We are asking the public from across the football fraternity, all clubs, all ages to turn out to support this match and help us raise much needed funds to support Conor and his team mates.
"Sport has tremendous capacity to bring people together. We see the Transplant Games Team as ambassadors not just for sport but as living proof that transplant surgery can help people like Conor and Tony live life to the full."
Janet Coleman, the NI Transplant Games Team Manager, said: "The reason we take part in the Transplant Games is to celebrate our second chance of life.
"Our team motto is 'Give and Let Live. We can visibly demonstrate through sport the success of transplant surgery and create greater public awareness about the need for organ donors."
Lynne Holt, Trustee for Transplant Sport UK, said: "Hopefully this event will encourage others to sign on the Organ Donor Register and most importantly, discuss their wishes with their loved ones."
Kick-off is at 7.30pm and tickets are £5 and available from either Eddie Finn on 07525 128 919, John McKeever on 07809 212 131, Victor Beattie on 07882 317 224 or Janet Coleman on 07740 030 171.
Ulster Star
08/05/2009