Corsets, Claret and Cuisine at St Patrick's event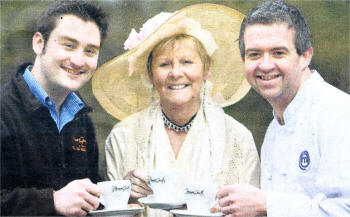 HILLSBOROUGH'S Taste of Spring will be combining Victoriana and the modern on St. Patricks Day in Hillsborough Village Centre.
Starting at 7pm Corsets, Clarets and Cuisine is one of a series of evenings planned by jkevents. With the use of food, wine and costume it will be an atmospheric and entertaining night for anyone with an interest in food, wine or fashion.
The evening will begin with a Victorian Fashion show A Glimpse into the Past' from War on Want. Parading as characters from Marchioness to Scullery Maid and using authentic costumes the ladies will be in hats, bustles and corsets. The evening will support the charity War on Want providing them with an opportunity to raise some much needed funds for the project 'Food for Thought' supporting communities in developing countries throughout Africa.
Prima Gusto Coffee House on Harry's Road, will be presenting a Cookery Demonstration with a difference. Using Victorian ingredients and recipes MasterChef Finalist 2008 Jonny Stevenson, head chef, will add a modern twist to create and demonstrate a menu that will combine the old and the new.
Not forgetting the Claret, the evening will be completed with a lecture on wine and its trends both Victorian and current by Neil groom from Harry's Road Fine Wines in Hillsborough.
For further information and tickets to either event go to www.jkevents.co.uk.
Ulster Star
06/03/2009