COUNCIL SORRY OVER CHANGING ROOM SPY
Council 'horrified' as employee pleads guilty to voyeurism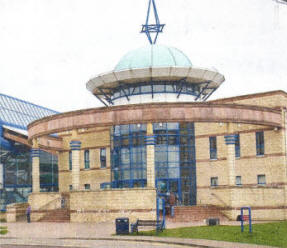 LISBURN City Council say they are "horrified and deeply disappointed" that a former employee has been found guilty of voyeurism at Lagan Valley Leisureplex and have apologised to all those caught up in his actions.
Neil Jamison, 27, of Locksley Park in Finaghy, who was working as a pool attendant at the Lisburn council-run facility, was warned he will face a prison sentence after pleading guilty to a total of 15 charges relating to more than 69 videos and numerous pictures of child pornography on dates between November 2005 and December 2007.
He also pleaded guilty to a further 14 counts of voyeurism and one of attempted voyeurism to obtain sexual gratification on dates between 30 March 1999 and 18 June last year.
It is understood the voyeurism charges relate to recordings Jamison made of women and teenage girls in the changing and shower rooms at the Leisureplex where he worked as an acting senior leisure assistant.
Before Jamison was arraigned, Judge Patrick Markey asked legal counsel to agree that the clerk would not have to read out the titles of the various images and videos Jamison was caught with, later describing them as "about the worst that I have seen". Applying for Jamison to be released on continuing bail, defence lawyer Joel Lindsay said he accepted it was a serious case but added that Jamison had already spent eight months in custody.
Judge Markey told the lawyer that from the nature of the charges alone and "without having read the papers" it was "a case in which custody is inevitable."
He added that the period in custody already served is not likely to meet the total sentence."
A spokesperson for Lisburn City Council said all statutory employment checks had been carried out before Jamison was employed.
"'The Council is horrified and deeply disappointed in such a betrayal of trust and extends its apologies to all involved," said the spokesperson. "The Council will continue to take a vigilant attitude to any improper conduct and it will continue to work with all relevant agencies with regards to service provision at its facilities."
Adjourning passing sentence until May and refusing the bail application, the judge ordered that pre-sentence probation reports be compiled on Jamison.
Ulster Star
03/04/2009