Mayor puts city's economic growth at the top of 'to do' list
by JULIE ANN SPENCE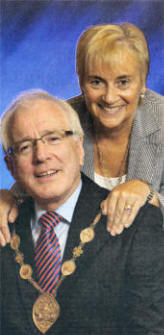 THE new Mayor of Lisburn, Councillor Allan Ewart, said he will be making the economic growth of the city his top priority.
Mr Ewart, who was elected to Lisburn City Council in 2005 to represent the Downshire area, is a founding member of the Democratic Unionist Party and has been working in politics full time as the Party's Administration and Finance Officer, since 1994.
Having spent the last two years as Chairman of Lisburn Council's Economic
Development Committee, Mr Ewart said he was determined to continue his work in that area and hopes to see significant economic boosts for the city during his term in office. "I am looking forward to the opening of the Premier Inn Hotel in September," said Mr Ewart as he anticipated the year ahead. "I also hope to work closely with the developer of the hotel on the Hillhall Road. If we are going to grow as a city we need more than one or two hotels.
"I am also looking forward to the release of the city's masterplan, and would like to see more people living in the city centre, helping to boost the night time economy."
He also intends to push forward a project he has been spearheading - the significant regeneration of the River Lagan.
"My priorities for the year will be economic growth and the promotion of the city," he added.
Mr Ewart is looking forward to the many events planned for the year to celebrate Lisburn's 400th anniversary, including the Proms in the Park in Hillsborough in September.
The Mayor thanked his council colleagues For electing him and paid tribute to his predecessor Councillor Ronnie Crawford, adding that he was looking forward to working closely with newly elected Deputy Mayor Alderman Paul Porter in the year ahead.
"I know we can work together for the good of all the citizens of Lisburn," he concluded.
julieann.spence@ulsterstar.co.uk
Ulster Star
26/06/2009