Mayor pulls on his running shoes for charity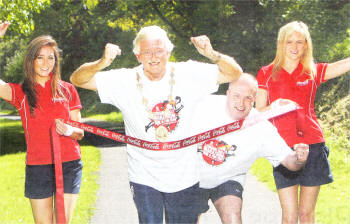 IT'S traditional for the Mayor of Lisburn to start the Half Marathon, 10K Road Race and 3K Fun Run in June each year.
But this year the First Citizen is going a step further by taking part. Councillor Ronnie Crawford and lone of his predcessors, Councillor James Tinsley, are donning their running shoes for charity at the event and are urging everyone to join them and get running for a good cause.
"It's wonderful that the reputation of this fantastic annual event continues to attract thousands to Lisburn," said Mr Crawford. "I will be taking to the roads this year and joining the thousands of fun runners, young and experienced athletes to raise money for my designated Mayoral Charity and this year's official Half Marathon charity, Diabetes UK.
"I have set up a donation webpage to co-ordinate sponsorship for Diabetes UK for this event. If you wish to sponsor me to complete the Fun Run, please log on to www.justgiving.com/lisburnmayor."
Gillian McBrien from event sponsors Coca- Cola said: "We are delighted to be supporting an event that provides an opportunity for people of all ages and abilities to get
out and get active whilst raising much needed funds for many charitable organisations."
Thousands have already registered to take part in the annual events, which will take place on Wednesday June 17 at 6.45pm.
With a broad choice of runs and walks available, there is something to suit everyone from the casual fun runner to the elite athlete. So why not join in the fun and register online at www.lisburnhalfmarathon.com, to secure your starting position at the races.
julieann.spence@ulsterstar.co.uk
Ulster Star
22/05/2009