Councillors back hotel plan for LeisurePlex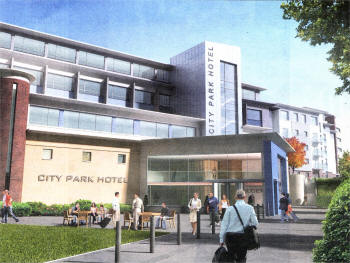 LISBURN Councillors have given their support to plans for a new family hotel in the city centre.
The plan for a hotel at the Leisureplex in Lisburn was given a warm welcome by Councillors at this week's meeting of the Council's Leisure Services Committee.
If it gets the go ahead" the 105 room hotel" which will include 35 one and two bedroom suites" will be ideally situated to accommodate the hundreds of people who flock to national sporting events at both the Leisureplex and at Salto Gym every year. As well as providing over 100 rooms" the development will also include apartments" function rooms" bar and breakfast area and 250 car parking spaces. The developer also has plans to significantly improve access to and from the site" adding an additional lane on Governors Road and installing a pedestrian crossing.
Welcoming the plan" which was submitted to the Planning Service last May" Alderman Edwin Poots said: "I think we should be supporting the scheme. The offer we have at the Leisureplex has been undermined by the lack of a hotel.
"Having a hotel on the site would be a huge benefit" particularly for gymnastics and swimming at the centre."
Mr Poots also proposed the Committee write to the Roads Service to encourage them to support the road improvement scheme attached to the development plan.
Julieann.spence@ulsterstar.co.uk
Ulster Star
12/06/2009