Independence Day theme at Down rally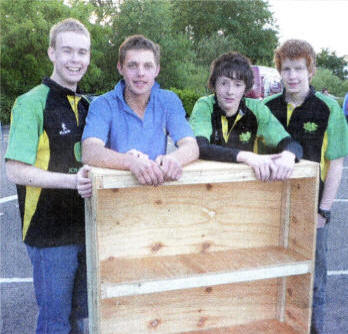 Hillhall Young Farmer's Club members Robert Preshaw, Chris Gill, Alexander Sleator and

Wi

lliam Taylor
INDEPENDENCE Day made it to Ballynahinch Rugby Club last week as Young Farmer's Clubs across the country joined forces to celebrate the 44th Annual County Down Rally Day on July 4.
Every club in the country was assigned a different American state to base a short slide show on with the Independence Day theme in mind.
Hillhall YFC rose to the challenge, representing the state of Washington in a short, comic sketch of the hit show 'Frasier'. "Frasier" (Robert Prenshaw) introduced Bill Gates (Alexander Sleator) and President George Washington (David Simpson) onto his show, who both concluded there was nothing but trees in Washington.
The Independence Day theme continued throughout the day including games such as building a tepee, dressing the Statue of Liberty and matching state names to their capitals. Robert Whitten represented Hillhall in the American Pie eating competition while a team comprising Andrew Simpson, Robert Whitten, Rory and Lily Hulatt won the Slippery Football competition. The Hillhall team emerged victorious from the day's proceedings and were presented with the Rally Tasks Shield and Senior Members celebrated later at the Rally Dance.
Congratulations go to Alexander Sleator, Chris Gill and William Taylor who won the County Down heats of the annual Build-It competition and now proceed to present their club and county at the N.I finals to be held later this month. Hillhall Y.F.C looks forward to the rest of the summer's forth-comings and competitions throughout the country.
Ulster Star
17/07/2009