Crumlin Firefighters set to raise funds for NSPCC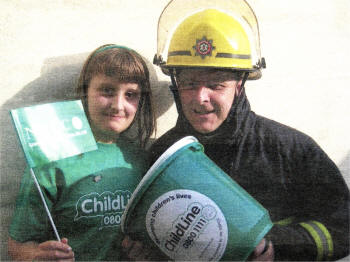 FIREFIGHTERS from Crumlin are once again showing their generosity this week by hosting a charity car wash to raise funds for the NSPCC/Childline.
A team from the NI Fire and Rescue Service will be at Crumlin fire station on Saturday from 11 am until 3pm to raise funds for the local charity.
Event co-ordinator Jim McGann explained: "We're hoping the people of Crumlin will come out to support us this week as we hope to raise at least £1,000 for this very worthwhile cause.
As well as the car wash there will also be lots of goodies for children and coffee for visitors. Local businesses have been tremendous in their support of our venture so there will also be a prize draw at the event. This charity is very close to my heart as the fundraising efforts are in memory of my brother in law, Lisburn man Paul McLea, who died suddenly in 2007. Paul was a police officer with the PSNI's crime unit so the welfare of children was very important to him. To date over £8,500 has been raised in Paul's memory through a variety of fundraisng efforts and we are hoping that this week's car wash will be a great success and act as a fitting way to celebrate the life of a very special man. So I'd like to encourage people to come out and support us this week by having their cars washed at the Mill Road Station."
Ulster Star
15/05/2009