Dancing on Ice star Zoe brings comic relief to Lisburn
by JENNY MONROE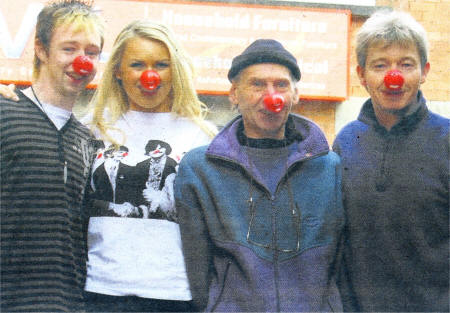 Left to Right: Lee Benson (trainee joiner) Zoe Salmon, John Nokes (volunteer) and John Moag (Joiner/supervisor) at Voluntary Services Lisburn. Pic by Jessica Homer.
DANCING on Ice Star Zoe Salmon was in Lisburn this week to see for herself the good work of a local voluntary organisation.
The TV presenter's visit to Voluntary Services Lisburn (VSL), was part of Comic Relief's Red Nose Day campaign. VSL which is located on Bachelors Walk, is a project funded by Comic Relief that helps disadvantaged communities. It runs a furniture recycling scheme to give long term unemployed work skills and experience, and provides cheap furniture to families in the area who otherwise couldn't afford to buy any.
Commenting about her visit on Wednesday Zoe said: "It was really good to see first hand where some of the money from Comic Relief goes to. It was also lovely to be in Lisburn and meet some of the local people who are involved with VSL."
She continued: "The Manager Pamela gave me a tour and I got to see the whole furniture recycling process from start to finish. Some of the furniture that they have produced is really cool and you would pay a fortune for it in shops.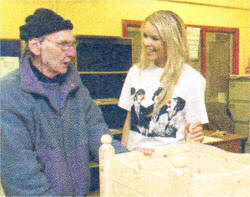 "I really enjoyed getting the chance to chat to the volunteers and it was lovely to see that there are both young and older people involved with the project. "
The presenter also encouraged people to get involved with this years Comic Relief by 'doing something funny for money in order to transform someone's life forever.
VSL Manager Pamela Neill said she was delighted Zoe was able to visit on behalf of Comic Belief who had given £5000 towards employing a joiner/trainer.
She said: "Zoe quickly familiarised herself with the work carried out by trainees, volunteers and staff and was surprised to seethe excellent standard of workmanship refurbishing unwanted furniture destined for landfill, donated by the public.
"Time did not permit Zoe to visit our retail outlet in Haslems Lane, but she expressed that she certainly would be visiting our retail outlets in the future if she required any household items."
During her visit, Zoe whose Uncle and Aunt Bertie and Margaret Salmon live in Hillsborough, thanked the Ulster Star and it's readers for supporting her on 'Dancing on ice'.
She said: "I really appreciate all the votes and everything the Ulster Star is doing to support me.
Watch Zoe on UTV's Dancing on Ice this Sunday night.
Ulster Star
13/02/2009