Family appeals for calm as beloved son is laid to rest
by JULIE ANN SPENCE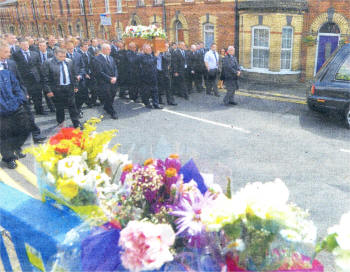 THE family of the young Lisburn man Darren Roberts who died after being stabbed in the city have spoken of the "worst week of their lives" as their beloved sun was laid to rest.
Darren, who died on Saturday June 13 in the Millbrook Road area, was laid to rest following a moving service attended by over 500 people at Hillhall Presbyterian Church last Saturday (June 20).
Speaking the day before the funeral, Darren's father, Uel, said the family had experienced "the worst week of our lives" and appealed for no retaliation for his son's killing.
"We have lost our eldest son Darren in a situation which should never have happened" said Mr Roberts.
"I have heard stories about graffiti appearing on walls and houses being damaged". These are supposed to be some kind of threat or retaliation for what happened to Darren.
"Let me be clear," he insisted. "They are not. They will do nothing to bring Darren back and they are bringing no comfort to his family at this very difficult time. If anything, they are making our feelings of loss and sorrow and emptiness even worse.
"I would ask whoever is responsible for this misguided behaviour to stop it. Darren's memory will not be served by crude threats and more violence.
"Stop it. There has been enough suffering. We do not want any more, and most definitely not in Darren's name."
julieannspence@ulsterstar.co.uk
Ulster Star
26/06/2009