David's Grand Canyon trek to help sick children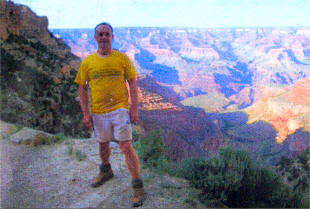 David at the Grand Canyon.
A LISBURN man has returned from an exhilarating trek of the Grand Canyon organised to raise money for sick children.
David Bowes was one of 18 people from Northern Ireland who completed the challenge which raised a phenomenal £69,902 for the NI Cancer Fund for Children.
The completion of the trek marked the end of a year long challenge for David, who not only took on the physical challenge and training to enable him to conquer the Canyon, but also fundraising to help the NICFC. In the end he raised £3,722.12
David said the Grand Canyon had been "a truly wonderful place beyond all my expectations".
And he said he was delighted the generosity of so many people had helped him raised over £3,000 for NICFC.
"The dedicated charity staff were brilliant - always there to give help and advice. Having witnessed the work they do for children and families affected by cancer, I am delighted to have raised such a large amount.
"Through the hard work of training and fundraising the great team of fellow trekkers pulled together to help each other. Everyone bonded very well
which made the trek a most enjoyable experience. We have all become great friends for life."
Dawn Weir, Community Fundraiser with NICFC, commented: "We are so proud of David who whole heartedly took on this challenge, enabling the NICFC to help hundreds of families face their own personal challenge every day, as they nurse a child with cancer."
Dawn Weir, community fund-raiser for the N( Cancer Fund for Children, with David Bowes, who helped raise a grand total of £69,000 by taking part in a charity t

re

k across America's Grand Canyon. US2809-568cd
Ulster Star
24/07/2009