Derek achieves musical dream at the grand age of 56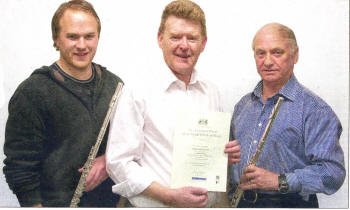 HILLSBOROUGH man Derek Stevenson has shown you're never too old to realise your musical dream by achieving his Grade 8 flute examination with the Associated Board of the Royal School of Music. Derek only started reading music and playing the flute some six years ago, at the age of 50.
But encouraged by his son Peter, a piano tutor, sheer determination and dedication by himself he reached his goal.
His flute tutor Brian Houston commented: "To take up a task of this magnitude at the age of 50 requires total commitment to the instrument, but Derek is an ardent student, who works diligently.
"A very gallant man who never complained and worked tirelessly to achieve his long time ambition in obtaining his grade 8 flute certificate. I would like to congratulate him on his success and sincerely hope that he continues his flute studies."
Ulster Star
05/06/2009