Anger over 'discrimination' against Lisburn

THE revelation the Maze stadium was to be axed met with an angry reaction at Lisburn Council's planning committee meeting on Monday night.
The Mayor, Councillor Ronnie Crawford, said he believed discrimination against Lisburn 'is widespread'.
"The Minister's decision cites the lack of political consensus as the reason for not proceeding with the National Stadium but the fact is that it is the unionist parties which have failed to deliver this project to an overwhelmingly unionist constituency" he said. "Discrimination against Lisburn is widespread in this administration despite the fact that we are an area from which high tax revenues are raised.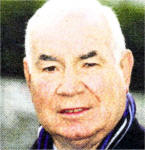 "We have consistently voted for the two main unionist parties but have received little reward. Highlighting the effect of these prejudices is not talking Lisburn down but simply drawing the attention of the voters to the failure of the parties they elected to deliver on the part of this city. We must confront those who are doing Lisburn down."
Alderman Cecil Calvert congratulated Mr Crawford for pointing out how Lisburn is losing out. He said: "It shows the bias against Lisburn City Council."
Alderman Ivan Davis also said Lisburn is losing out.
"It is a sad day for unionist parties that we can't deliver the Maze Stadium. If our parties in Belfast had stood up we would have had it by now. Think of all the things Lisburn isn't getting. People will lose all confidence in political parties if they cannot deliver." He continued: "30,000 building workers could be facing the dole and yet here is a golden opportunity being missed. For years we heard opportunist Unionist politicians trumpet their opposition to the Maze Stadium project not on sporting nor financial grounds. They were not, under any circumstances, going to countenance a shrine to terrorism or a conflict resolution centre. But it is almost certain the conflict resolution centre will be at the Maze but there won't be a stadium." And Alderman Jim Dillon commented: "When this matter first arose we were all united to get a stadium, but Belfast started to find excuses why it shouldn't go ahead."
However, Councillor Paul Givan said it would be 'wrong to take a defeatist approach'.
"This Council has continued to punch in above its weight. We shouldn't look at this as the end of Lisburn but should continue to fight the case."
Councillor Bill Gardiner-Watson agreed with Mr Givan but said "think what we could do if we didn't have the discrimination against us."
Lagan Valley MP Jeffrey Donaldson said members of the Council must stop "talking Lisburn down". "There are good things happening . Yes there are set backs but the road to success has set backs from time to time."
Ulster Star
06/02/2009