Donaldson calls for `real action' to help muscle disease victims
by NEIL GREENLEES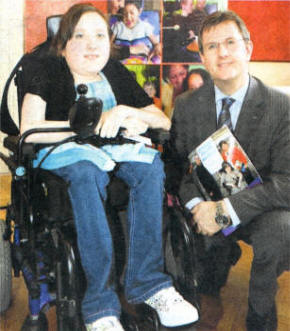 JUNIOR Assembly Minister and Lagan Valley MP Jeffrey Donaldson has said it's time 'real action' was taken to provide vital services for people suffering from muscle disease.
Mr. Donaldson was speaking after being presented with a hard hitting report by the Muscular Dystrophy Campaign entitled 'Building on the Foundations: The Need for a Specialist Neuromuscular Service Across Northern Ireland'.
The report called on the Northern Ireland Executive to ensure that people living with muscle disease in the province, including an estimated 70 in Lagan Valley, have access to the vital specialist expertise required to treat their condition.
During the Stormont reception Mr. Donaldson also met with some of the Lagan Valley families affected by muscle disease as well as clinicians dealing with the problem.
"The Muscular Dystrophy Campaign's report shows that many people with muscle disease are being denied vital services and it's time real action was taken," he added.
"I was delighted to meet with families from Lagan Valley; it is important that we work together to ensure that services are improved for these vulnerable families." The report presented to Mr. Donaldson revealed:
There is no paediatric consultant across Northern Ireland to provide specialist care to children with muscle disease;
Funding for Northern Ireland's only Care Advisor, whose role is to support and guide patients, will cease next month leaving this essential service vulnerable and dependent on charitable funding:
There is limited access to specialist genetic testing to confirm diagnosis of these devastating conditions;
Many adults do not have access to ongoing physiotherapy, or any physiotherapy at all;
The NHS has no designated funding for home ventilation services, and there is a 'postcode lottery' in service provision.
Oliver Monaghan, Chair of the Northern Ireland Council of the Muscular Dystrophy Campaign, said: "I am very pleased that we can count on the support of Jeffrey Donaldson in the fight against muscle disease. He is a strong voice in the Northern Ireland Assembly for local disabled people."
Co-author of the report, Consultant Neurologist Dr John McConville from Belfast City Hospital said: "We have good service in place at the muscle clinic in Belfast, but there are concerns about finding a new consultant paediatric neurologist. Too often specialist care is vulnerable and heavily dependent on a few doctors, nurses and allied health professionals rather than embedded in a properly resourced, long-term service."
neil.greenlees@ulsterstar.co.uk
Ulster Star
20/02/2009