Donate an organ and give the 'gift of life' says mum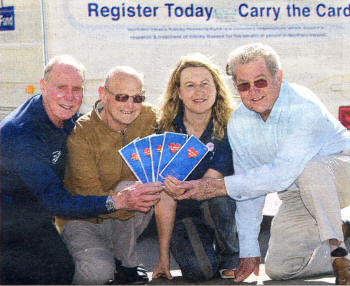 A LISBURN mother is encouraging people to talk to their families and loved ones about their wishes on organ donation.
Susan Kee, who has first hand experience of waiting for an organ for a loved one, feels that not enough people are aware of the impact organ donation has on other people's lives and feels much more can be done to help.
Susan explained: "Northern Ireland has the lowest percent per population on the Donor register in the UK. Yet it has one of the highest refusal rates - currently 43%.
"It is vital that people don't just carry an organ donation card or put their name on the NHS Organ Donor Register, but talk to their loved ones to make sure they are aware of their wishes. At present, to be a suitable organ donor, you must die in hospital. If the body is suitable for donating organs the transplant team is called in.
The next of kin are asked if the deceased would have liked to donate their organs.
"I can not imagine the unbearable agony that the family must be going through. Not only have they just lost a loved one but now they are having to make a decision for their organs to be removed and that decision has to be made quickly."
She continued: "Consequently 43% of the next of kin here say no. These are suitable donors and also include people with donor cards. In the cases where the relatives say yes these organs are transplanted and give renewed life to someone who is very sick. It's like going from darkness to light. In time it gives the deceased relatives comfort to know that their loved one's organs are living again in someone else. What a gift."
Susan added: "I believe there are three great occasions in life - when you are born, when you are married and when you die. Let dying be the greatest of all by creating new lives.
"We can all also become an organ donor and make others aware. It takes only one minute on the Internet - www.uktransplant.org.uk and you must tell the next of kin. "I think it is important to mention there is a box to tick when you send off for your driving licence if you want to donate your organs. I think that this is a very good way to get people to sign up."
In a heartfelt final plea Susan said: "Don't take your organs to heaven, heaven knows we need them here."
NI Kidney Research Fund thanks
A VERY sucessful street collection for the Northern Ireland Kidney Research Fund was held on Saturday May 30 in Lisburn City Centre. A total of £1297.88 was raised.
The commitee of the NIKRF would like to thank the kind generousity of the local community and also all those volunteers who gave of their time to collect. All money raised goes into research into kidney disease and nothing is taken out for administration.
For more details on their work visit www.nikrf.org.uk
Ulster Star
19/06/2009