Sporting heroine Janet to get Freedom of the City
by STACEY HEANEY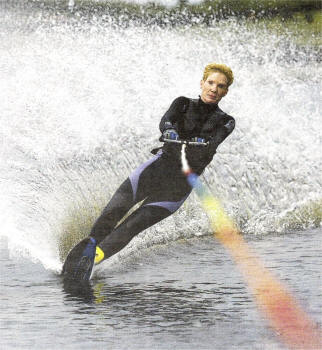 LISBURN City Council will confer its highest accolade, the Freedom of the City, on local sporting heroine Janet Gray, on Saturday April 18.
Dr Gray MBE is being awarded the honour in acknowledgement of her lifetime achievements, which include excelling in the field of Disabled Water Skiing and being an Ambassador for Sport for all young athletes in the Lisburn City area.
Janet will join a very prestigious list of individuals and organisations that have received this highest honour from the Council in recent years.
Departing from Lagan Valley LeisurePlex at 10.15am, a cavalcade will follow Dr. Gray, who will tour the City in a horse drawn carriage, en route to Lagan Valley Island. The route of the cavalcade is Governor's Road, Hillsborough Road, Market Place, Bow Street, Market Street, Linenhall Street and Queen's Road, finishing at Lagan Valley Island.
Janet reached the pinnacle of disabled water skiing by winning the World Disabled Championship in the three disciplines of slalom, tricks and jumps. She was World Disabled Water Ski Champion in 1997,1999, 2001 and 2003.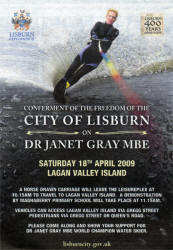 During training in 2004 a horrific accident nearly cost her her life. But her strength and determination enabled her to fight for life and after three long, painful years of intensive rehabilitation and numerous operations she stunned the sporting world by claiming her fifth victory in the 2007 World Disabled Water Ski Championships in Australia.
Lisburn Mayor, Councillor Ronnie Crawford, said he was looking forward to the occasion.
"The Council is delighted to bestow this honour on Janet Gray, recognising her strength of character and determination to obtain world-class achievements over the past 20 years" he said.
The meeting to officially confer the Freedom of the City will take place in the Council Chamber, where invited guests will be present to witness the historic occasion.
A tree planting ceremony at 11.15am in the grounds of Lagan Valley Island will follow. A demonstration by Maghaberry Primary School of the Five Star Challenge will then be held at the front of the building for guests and members of the public.
stacey.heaney@ulsterstar.co.uk
Ulster Star
14/04/2009