Emma ready to take on the world in bid for golden glory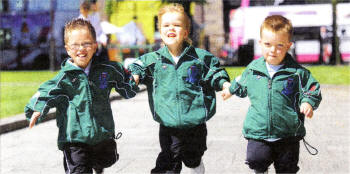 Some of the participants at the Dwarf World Games 2009 at City Hall, Belfast L-R Andrew Moorcroft, Emma Fitzsimons and Shane McAnulty.
AN eight -year-old Glenavy girl is getting ready to bid for gold at the Dwarf World Games which take place in Belfast next week.
Emma, 8 years old, is a member of the DAA NI (Dwarf Athletic Association of Northern Ireland), which after organising the hugely successful Belfast City European and Open Championships in 2006 secured the bid to bring the World Games to Belfast.
Since then preparations have been in full force to stage one of the world's unique sporting events. More than 200 athletes of restricted growth, from 15 countries, will take part in nine sports with competitions taking place at the Mary Peters Track in south Belfast, Lame Leisure Centre and the University of Ulster's Jordanstown campus. Emma has previously participated in the European Games in Belfast in 2006 and will take part in the junior athletics and new age kurling at the World Games.
Eugene McVeigh, Chairperson of the DAA NI said, "Emma is really looking forward to the Games and I'm confident she will be a strong contender to pick up a few medals throughout the week. She's one of ten athletes from Northern Ireland and they're all very excited to be a part of such a huge event, and I'm sure they, along with all the other athletes will enjoy themselves at whatever level they are competing at.
Eugene said DAA NI was honoured to be hosting such a prestigious event.
"The success of the Belfast City European and Open Championships in 2006 inspired us to bid to host a larger, more competitive and more spectacular event and hopefully over the course of the week everyone involved will get to experience this" he said.
The first Dwarf World Games were held in Chicago, USA, in 1993. England, Canada and France subsequently have held the Games, in 1997, 2001 and 2005 respectively. The 2009 Dwarf World Games are sponsored by Belfast City Council, the Department for Culture Arts and Leisure, and Sport Northern Ireland, and supported by Disability Sports NI. Premier Inn is the official accommodation provider for the Games.
For more information on the Dwarf World Games, Belfast go to www.daani.org
Ulster Star
24/07/2009