Edward in pole position as he gets `dream job' with McLaren
by STACEY HEANEY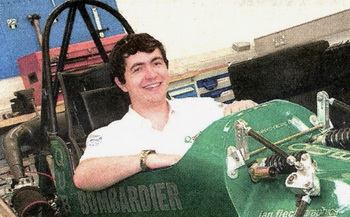 YOUNG engineering graduate Edward Thompson will soon be swapping life in Hillsborough for the high octane world of sports cars when he begins his 'dream job' with McLaren Automotive later this month.
Edward, who graduated from Queen's University in July with a First Class Masters degree in Mechanical and Manufacturing Engineering, will take up a position with the motor racing giant on September 21 at their state-of-the-art headquarters in Woking, Surrey.
Edward has long had an interest in motorsport, and it was this interest which led him to pursue a career in the engineering industry.
"This has always been a dream," said Edward. "From a very young age I have been into cars and racing and rallying and then as I came up through school, subjects such as maths and physics interested me, and that led me to the engineering side of things.
"This is a brilliant opportunity," he added. "McLaren is at the high end of the motorsport industry, so this is a dream job."
Whilst he is yet to discover the exact details of his position, Edward will be helping to design and build some of the world's best known super sports cars, working on the Powertrain Engineering side of things where he will design the engines and gearboxes of the cars.
Perhaps best known for its Formula One success, with the likes of World Champion Lewis Hamilton in their team, McLaren have also developed McLaren Automotive which produces 'super cars' such as the McLaren F1, which is the world's fastest production road car, and this is where Edward will use his expertise.
The former Newport Primary and Wallace High School pupil, had to go through a series of rigorous interviews and tests before being given the position with McLaren.
The company, which says it recruits "highly motivated and dedicated people", contacted Queens after their success in the recent Formula Student competition at Silverstone race track where the team, with Edward as one of its leaders, finished third in its class.
Edward said: "McLaren get in touch with the universities they have had contact with in the past and Queens sent them my CV. I then had a series of telephone interviews, online tests and several interviews in Woking before I was given the job. "I would just like to thank the people at Queen's; if it wasn't for the help of the supervisors there I wouldn't have done so well at the Formula Student competition and then been in contact with McLaren."
Edward said his family and friends are all excited about his new job. He commented: "They are all excited, they all know how much this means to me."
Whilst he is looking forward to his new job, Edward has given thought to a future move to working on McLaren's Formula One team. "For me, working in Woking is a dream," he said. "Maybe in the future, who knows; working with the Formula One team would be amazing, if the opportunity came up I wouldn't have to think too long, but I am really happy at the moment."
stacey.heaney@ulsterstar.co.uk
Ulster Star
04/09/2009