Emma and well groomed Eddy head to Crufts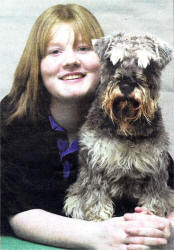 LOCAL dog lover Emma Willis will be heading off to one of the world's most prestigious dog shows next week when she will compete at Crufts with her Miniature Schnauzer named Lucky Teddy.
16-year-old Emma, a pupil at Laurelhill College, is the only person from Northern Ireland to qualify for the grooming competitions at the event, where she will compete in the Young Kennel Club Grooming Over 12 Competition.
Emma and Eddy, as he is known to the family, will travel to Birmingham on Wednesday for the competition, which runs from March 5-8.
She said she was "happy and excited" to be competing at Crufts, in what will be her second visit to the event.
The Maze girl will also compete with members of the Lisburn and District Dog Training Club in the Team Agility, as well as in the Individual Agility.
The Grooming Competition requires Emma to present her dog as she would for the show ring. Grooming can mean anything from combing right through to clipping or stripping and this all depends on the type of coat the dog has. All the competitors in the Grooming Competition will be given a maximum of two hours to groom their dog under the watchful eye of a
judge, with Marks awarded for a combination of good presentation and careful handling.
Emma became interested in showing and grooming dogs when she took two and a half year old Eddy along to obedience classes as a puppy to the Lisburn club.
Emma's mum Angela said she is incredibly proud of her daughter's achievement.
"I think it's wonderful," she said. "It is a great achievement to get over to Crufts."
Emma added, "I'm really excited. All of the people at school and the teachers are asking about it. Eddy really enjoys the grooming and it allows us to bond more together."
stacey.heaney@ulsterstar.co.uk
Ulster Star
27/02/02009