Farmers Market to be monthly fixture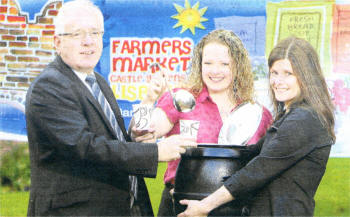 THE Castle Gardens Farmers Market is to become a regular fixture, following the success of the introductory markets held at the end of last year.
The market will take place on the first Saturday of every month commencing this Saturday (March 7) and will run from 10am until 4pm.
All vendors are set to return, with the number of stalls set to increase, and the high quality that was on display at the market last year, has been maintained. Councillor Allan Ewart, Chairman of the Council's Economic Development Committee said: "We couldn't have hoped for more successful markets at the trial events held last year. There was a continual stream of visitors attending the markets and the vendor's produce sold out quickly. I can only hope this success continues and
Castle Gardens Farmers' Market creates a name for itself in terms of the choice, the quality, and the superb day out to go with it."
"Castle Gardens provides the public with the perfect backdrop to a wonderful shopping experience. We hope that not only will people come out to buy the wonderful foods on offer, but to experience the beautiful restored gardens right in the heart of Lisburn Historic Quarter."
Musical entertainment will also add to the ambiance with accomplished musicians playing throughout the day. There will also be craft workshops available for children to participate in, which will take place in the shelter at 11am, 1pm and 2pm.
For further information please contact Suzanne Lutton, Lagan Corridor Regeneration Manager on 9250 9485 or email suzanne.lutton@lisburn.gov.uk.
Ulster Star
06/03/2009