Centenary of Ferguson's first flight marked with plaque
by SARAH TOLAND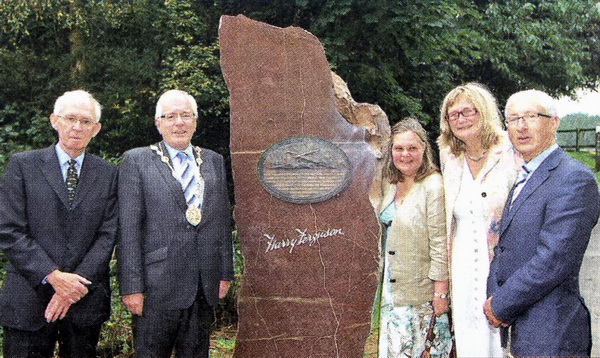 Ernie Cromie, chairman of the Ulster Aviation Society; Mayor Allen Ewart; Caroline Blest and Sally Fleming, grand-daughters of tractor inventor Harry Ferguson; and Bill Forsythe, from the Harry Ferguson Celebration Committee; at Hillsborough Forest Park where a memorial was unveiled to commemorate the Dromore man's famous first flight near Hillsborough lake 100 years ago in 1909. US3309-551cd
A PLAQUE to pay homage to the genius of Harry Ferguson has been unveiled to mark the centenary of the local man's first successful flight.
The unveiling took place at Hillsborough Forest Park, close to the lake where the historic 130-year flight took place on 31st December 1909.
Harry Ferguson, who died in 1960, is best known as the genius behind the Ferguson tractor range which revolutionised farming around the world. But he was also Ireland's first aviator. When he took to the skies above Hillsborough he became the first Irishman to successfully build and fly his own aircraft, an eight cylinder monoplane.
The unveiling of the bronze memorial piece, commissioned by Whiteabbey-based artist and sculptor John Sherlock and funded by Lisburn City Council, was carried out by by Harry's granddaughters Sally Fleming and Caroline Blest.
This week also saw the launch of a Harry Ferguson Self-Guided Trail Leaflet, which features such points of interest as the home in which Harry grew up (Ferguson Homestead, Growell, Anahilt), the schools he attended at Drumlough Presbyterian Church Hall and Ballykeel school site, and
his place of worship Growell Gospel Hall. Councillor Jenny Palmer, Chairman of the Council's Economic Development Committee, and officiator at the unveiling ceremony said: "Harry Ferguson was undoubtedly a great inventor and engineer who contributed so much to aeronautics, and modern agriculture. This fantastic artwork will serve as a fitting and permanent tribute to this great mans first successful flight."
There have been a whole series of events to mark this special year including a lecture evening, which was due to take place on Thursday night at 7pm at the Lagan Valley Island Centre on the subject 'The Harry Ferguson Aviation Legacy'.
Chairman of the Ulster Aviation Society, Ernie Cromie said of the events: "I'm thrilled that this memorial has been created at last, 100 years after the event, and delighted to have been associated with the other members of the Working Group in bringing it about."
Harry Ferguson pictured in 1909 after he became the first Irishman to design, build and fly an aircraft. Inset: The plaque, designed by sculptor John Sherlock. US3309-550cd
Howard Moore and Ken Ellis with a 1949 Ferguson TED-20 tractor. US3309-539cd
Charlie and Harry Bingham, from Hillsborough, enjoying the vintage rally at Harry Ferguson's former home near Dromara. US3309-527cd
Amy and Emily Duncan, from Lisburn, enjoying the vintage rally at Harry Ferguson's former home near Dromara. US3309-526cd
Sammy Wilson, William Hunter and Derek Wilson with a 1962 MF-135 tractor.
US3309-538cd
Locals taking part in the Harry Ferguson road-run. US3309-540cd
Ulster Star
21/08/2009