Flight delay ruins big day in London for children
by STACEY HEANEY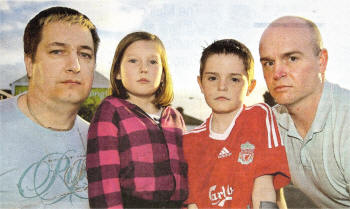 TWO local children were left "devasted" recently when they missed out on a fantastic, all expenses paid trip to London after their flight was delayed by eight and a half hours.
Jack Walsh and Jessica Rea, both 9, were looking forward to a day of red carpet treatment, a tour of the film museum and seeing the sights of London on Saturday March 28.
However, instead of seeing the set of Dr Who, Darth Vader's suit and paying a visit to the London Eye, the Fort Hill Primary pupils were forced to go back home when their 6.30am Ryanair flight from Belfast City Airport to Stansted was delayed.
The trip was an extra special treat for Jack, who has spent the majority of the last year in a wheelchair after he was diagnosed with the bone condition, Perthes' Disease, last March.
Jack's father Martin explained, "This was something Jack was really looking forward to, he was counting down the days. I went on the Internet and showed him where we were going, Big Ben, Westminster, the Houses of Parliament and the London Eye, he was really excited."
Jack and Jessica, along with their dads Martin and Gordon, had woken up at 4am to get to the airport on time. However their trip soon turned into a nightmare.
Martin continued: "We were just going through departures when we were told the flight was delayed by eight and a half hours because there was no flight crew. I was just livid. There were so many people there and the kids were so disappointed. I spoke to a woman at the airport and she said she couldn't do anything, I would need to speak to someone from Ryanair, but when I asked to do that she said there was no-one there.
"Eight and a half hours isn't a delay, it's a cancellation," Martin added.
"It was 12 months to the day since Jack was diagnosed with Perthes', which is where the blood stops circulating around the top of the femur causing decay, so the femur basically starts to crumble." said Martin. "He had always been active, he played football for Lisburn Youth. But he can't go swimming with school now and he had to give up football, so this was something that really perked him up, but that was taken away."
Martin said Jack underwent an operation last year to fit a metal fixator to his leg and was in a wheelchair for four months so thoughts of his trip had cheered him up.
Martin added, "When we were told idiom the nights he just said to me
'We're not going, are we daddy?' and Jessica's eyes filled up. As a parent, what can you do? You feel so powerless." Jessica's dad Gordon added: "The children were just devastated. The organisers have said they will put an event on in Belfast for them if they can but the children were so looking forward to getting on the tube and going to the museum, that can't be replaced. Ryanair still haven't been in contact with us."
Gordon added, "The next flight was 2.45pm so it would have been 4.30pm or 5pm before they got there.
The pair tried to purchase flights with another airline, however, they proved to be too expensive.
In a statement Ryanair confirmed that the flight from Belfast City to Stansted on 28 March was subject to a delay which "was beyond Ryanair's control". "Passengers were provided with refreshment vouchers as per EU261 passenger legislation but are not entitled to compensation. Ryanair once again apologises to all passengers affected by this unexpected and unavoidable delay," it said.
stacey.heaney@ulsterstar.co.uk
Ulster Star
17/04/2009