Happy Days as The Fonz tells pupils how he overcame his dyslexia
by MARY MAGEE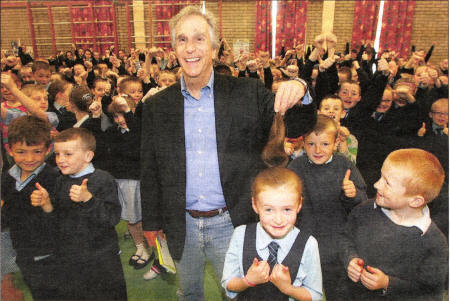 Henry Winkler, aka The Fonz, at the Good Shepherd Primary School last week
TO millions of TV viewers across the world the Fonz was the King of Cool. As the star of seventies sitcom Happy Days, he was an icon who rode round on his Harley Davidson getting any girl with a wink of one eye.
But the reality was very different for Henry Winkler who for years hid the fact he had trouble reading and understanding the script because he suffered from dyslexia. The condition even meant he couldn't ride that Harley because he couldn't co-ordinate the clutch, throttle and brake on the bike -poor co-ordination being one symptom of the condition.
"There was just no way I could figure it out, so I never got to ride that cool Harley-Davidson" he revealed during a visit to Lisburn to talk to children at Good Shepherd PS in Poleglass.
Instead, the Harley was mounted on a piece of wood on wheels and then pulled along for action scenes.
As well as starring in and producing Hollywood films, Henry is also a successful children's author and it was in that role he was visiting the excited children last Thursday.
Henry was encouraging children to read and spoke to them about his own secret struggle with dyslexia during the visit which was part of a tour organised by First News, a national newspaper aimed at young readers. He now has 16 books based on the character called Hank Zipzer, the world's greatest underachiever (the name comes from his own name Henry and a woman who lived in an apartment block called Irene Zipzer). He said: "School was unbelievably hard for me. Teachers didn't know what dyslexia was at that time so I was labelled a trouble maker.
"I got a bad grade in everything but lunch. I was great at lunch. I was told I was stupid, lazy and not living up to my potential most of my life. But from the age of seven I knew that I always wanted to be an actor."
He told the children: "I'm an actor, a producer and I have written 16 books with Lyn Oliver and still I'm at the bottom three per cent academically in my country.
"If people tell that you are stupid long enough you will believe them.
"Every single person has a greatness, everyone has a gift and what you have to do is find that gift and you have to believe in yourself.
"I have met doctors, lawyers and people who have climbed mountains and done great things who have suffered learning challenges so everything is possible. There is no reason why you cannot achieve your dream."
Henry explained how he dealt with his dyslexia.
"While I working as an actor, if I couldn't remember the lines I would just make them up. The producers would say to me about making lines up and I told them 'I am trying to get into the essence of the character'...they normally bought that."
The Fonz may have hung up his leather jacket (which his parents, who escaped Nazi Germany, gave to an American Museum) but he never lost his affection for the role that catapulted him to worldwide fame.
"He was was everything that I wanted to be," Henry said. "But I wasn't cool. My son, who is 25 now, is a lot cooler than me."
The humorous books he has written about Hank Zipzer, have been a worldwide success. "They are for everyone, not just children" he said. "One boy told me when he read it he laughed so loud that his funny bone fell out." When he returns home to America Henry plans one more book about Hank before moving onto another series of books with a different character.
The actor is passionate about using his experiences to highlight the problems of dyslexia and said that if he had never become an actor....he would never have become the Fonz...he would have helped children in some way.
Hank Zipzer books are available from bookshops and www.walker.co.uk
Shock and excitement as superstar drops in
THE Principal of Good Shepherd, Noreen Cahill, said she was 'shocked and excited' when she heard who was coming to the school.
She said it is wonderful to have a famous actor visit the school while also promoting an important message about reading.
Mrs Cahill said: "Our school has been involved with First News, which is promoting the book tour. When I heard who was coming I took a picture of him and went round all the classrooms and asked who he was.
"The teachers all knew straight away, they recognised him as the Fonz. One teacher even told me that when he was young he wanted to be the Fonz. Some of the older children knew him as the coach in The Waterboy."
Famous Irish author Malachy Doyle also visited the school recently.
"I think it is wonderful they chose our school to promote reading," continued Mrs Cahill. "Henry had difficulty at school and often said he felt he was stupid but became an actor and now he has written all these books, so dreams can be achieved. It goes to show that children have all different types of intelligence."
Ulster Star
29/05/2009