Free creche facility secured at Women's Centre
by JENNY MONROE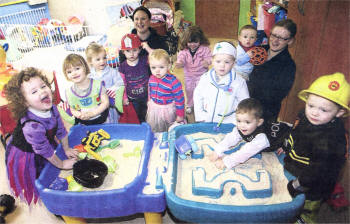 FUNDING for a crèche facility at ATLAS Women's centre in Lisburn has been secured after a cash injection from the Minister for Social Development.
Margaret Ritchie has extended the women's centre's childcare funds for one more year. This means that children can be left in the ATLAS crèche and mobile crèche for two hours per day free.
Without the money the crèche would not have been able to continue after March.
Gay Sherry-Bingham, manager of the centre, commented: "The crèche is an enjoyable, learning and social setting where your babies and children can develop, make friends and are better prepared for the transition to nursery and school.
"You can use this facility if you are attending an educational course, appointment at the doctors, dentist, well women clinic, advice centres, job interview, the library, the gym, keep fit class, going for a walk or dropping in for a chat and a cup of tea. We all need time out and this is not always possible for some people, that's why ATLAS exists."
She said a lot of people still don't realise that ATLAS is run by the community for the community. The crèche, the courses and information sessions and the cafe are available to everyone in the community.
One mum from Lisburn explained how she has benefited from this service: "I was suffering from ill health which gradually led to deep depression. It wasn't just me who was suffering my daughter was too. "Even though I passed ATLAS every day I didn't have the courage to go in and enrol on a course. However, I did have the courage to go and get details of a computer course for an elderly neighbour. To cut a very long story short the girls were full of support and encouragement and I enrolled on an 'Understanding and Managing Stress' course.
"My daughter went to the crèche and loved it, so of
course I continued and continued and continued with more courses. My daughter went to school with no worries at all and I started work last week."
Roy Hanna, Chairman of Lagan Valley Ulster Unionist Party, welcomed the news and praised the good work the facility is doing to advance women's development in Lisburn.
ATLAS staff and directors thanked all their members for lobbying on ATLAS's behalf and the MLAs Jeffrey Donaldson, Basil McCrea and Paul Butler for their support in helping ATLAS obtain the funding.
Ulster Star
/02009