Father and son shed almost seven stone in friendly competition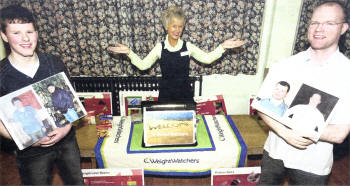 A FRIENDLY competition between a local father and son has seen success for both, as they have reached their goal weight in WeightWatchers.
Geoff Lynn and his son Robert have shed almost seven stone between them at the Lisburn class.
15-year-old Robert has gone from 15st 131bs to list 3lbs, whilst dad Geoff has gone from 14st 10Ibs to 12st 10Ibs.
As childhood obesity becomes an increasing problem for young people, Robert decided to take action and has seen amazing results, now leading a more healthy and active lifestyle.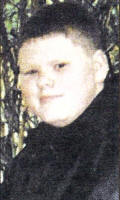 The Rathmore Grammar pupil has been attending the class in Brownlee Primary School for almost a year, and he admits that it was the best decision he has made.
"I'm delighted," said Robert. "I've
reached my goal weight and am now fitting into different clothes and I am more active. People in school have noticed and have commented on it too."
Being under 16, Robert had to have a GP's letter to allow him to join the class, however, once that was organised he threw himself into the WeightWatchers routine.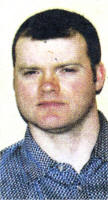 "I definitely wouldn't go back to how I was," commented Robert. "I had tried to lose weight twice before without success. My mum used to go to WeightWatchers and my dad joined so I went to a couple of meetings.
"I would definitely recommend it. It is very motivational and it was actually quite easy when you got into the routine."
Robert said he used to snack on junk food such as crisps and fat food,
however now he sticks to healthy food.
"I'm not perfect but I eat a lot more fruit and healthy meals. I wouldn't eat fast food now," he concluded.
For dad Geoff, he found himself putting on some weight after giving up smoking and joining the local class helped him to shed the pounds again.
However, having Robert at the class turned their weight loss programme into something of a contest between the pair.
"We did develop a bit of a friendly competition," said Geoff. "I had lost weight before Robert joined and was just levelling out but I found I was more focused on it when he went and we kept an eye on what we were eating.
"It is just fantastic for Robert, he found it so easy. For Robert at 15,
being overweight may affect how people perceive him and this will give him a new confidence."
The pair intend to keep up with the classes in order to keep the weight off, and Geoff was quick to recommend the class to others wanting to lose weight.
"In my experience in WeightWatchers, I have learned a whole range of reasons why it is beneficial. They don't exclude anything, it all works on a points system and they educate you on the benefits of drinking water, of salt content, of calorie intake and saturated fat.
"It's not just about losing weight, it's a lifestyle," Geoff added.
"It's about being healthy and being careful about what you eat. I would encourage anyone, male or female, to go to the classes."
stacey.heaney@ulsterstar.co.uk
Ulster Star
27/02/02009